October 30, 2014
Variants in Two Genes May Play Role in Violent Behaviors
the Psychiatry Advisor take:
People who commit violent crime or engage in violent behavior may do so, in part, because of a variant in two genes, according to researchers.
Jari Tiihonen, MD, PhD, of the Karolinska Institute, Stockholm, Sweden, and colleagues analyzed the genomes of 895 prisoners in Finland.
Repeat offenders (10 or more serious crimes) were significantly more likely to have a type of loss-of-function variant in the monoamine oxidase A (MAOA) gene (odds ratio 2.66, 95% CI 1.60-4.42) or the a variant in the CDH13 gene (OR 2.72, 95% CI 1.77-4.15), compared with the general population, the researchers reported in the journal Molecular Psychiatry.
A statistical analysis showed that between 5% and 10% of all violent crime in Finland could be attributed to these variants.
"We've observed two genes that have a relatively big effect on violent behavior but there are possibly tens or hundreds of other genes that have a smaller effect," Tiihonen told The Independent newspaper. "This is why a 'test for criminality' is not possible from this study."
The researchers also found that the genetic associations were independent of a history of substance abuse or antisocial personality disorders generally. Also, abuse as a child did not impact the predilection for violence either.
They also found that violent crime, for the most part, takes place when the perpetrator is under the influence of alcohol or amphetamines. Both substances are known to increase levels of the enzyme dopamine, which itself has been linked to violent behavior.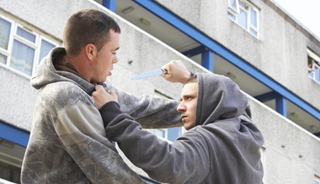 Variants in Two Genes May Play Role in Violent Behaviors
In developed countries, the majority of all violent crime is committed by a small group of antisocial recidivistic offenders, but no genes have been shown to contribute to recidivistic violent offending or severe violent behavior, such as homicide.
Our results, from two independent cohorts of Finnish prisoners, revealed that a monoamine oxidase A (MAOA) low-activity genotype (contributing to low dopamine turnover rate) as well as the CDH13 gene (coding for neuronal membrane adhesion protein) are associated with extremely violent behavior (at least 10 committed homicides, attempted homicides or batteries).
Sign Up for Free e-newsletters
Check out what's trending