September 11, 2014
Brain Circuitry Influences Response to Violent Movies
the Psychiatry Advisor take:
Brain circuitry may determine how a person who watches a violent movie reacts, according to a new study.
Nelly Alia-Klein, PhD, of the Friedman Brain Institute and Icahn School of Medicine at Mount Sinai, New York, New York, and colleagues examined brain scans in 54 men. The men filled out a questionnaire about aggressive behavior. Afterwards, they watched violent scenes one day, followed by non-violent scenes on day two and no media exposure on day three.
Subjects who self-identified as having aggressive tendencies described feeling more inspired and determined and less upset or nervous than non-aggressive participants when watching violent scenes compared to the scenes shown on the second day, the researchers reported in PLOS One.
However, on the third day, when no movies were shown, participants with aggressive traits had unusually high brain activity in a network of regions that are known to be active when not doing anything in particular. This may indicate that participants with aggressive traits may have a different brain function map than non-aggressive participants, researchers said.
"Aggression is a trait that develops together with the nervous system over time starting from childhood; patterns of behavior become solidified and the nervous system prepares to continue the behavior patterns into adulthood when they become increasingly coached in personality," Alia-Klein said in a statement. "This could be at the root of the differences in people who are aggressive and not aggressive, and how media motivates them to do certain things."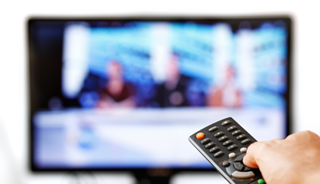 Brain Circuitry Influences Response to Violent Movies
Media portraying violence is part of daily exposures. The extent to which violent media exposure impacts brain and behavior has been debated. Yet there is not enough experimental data to inform this debate. We hypothesize that reaction to violent media is critically dependent on personality/trait differences between viewers, where those with the propensity for physical assault will respond to the media differently than controls.
The source of the variability, we further hypothesize, is reflected in autonomic response and brain functioning that differentiate those with aggression tendencies from others.
Sign Up for Free e-newsletters