January 25, 2015
Personal Writing May Improve Mood Disorders
the Psychiatry Advisor take:
People who write about their problems can have better success in overcoming these obstacles.
Previous studies have already shown that writing about personal experiences can improve mood disorders, reduce symptoms in cancer patients, improve health after a heart attack, reduce doctor visits, and improve memory. Building on this, researchers wanted to see if having individuals write their personal story could lead to behavioral changes and improve happiness.
One study included 40 freshman from Duke University who were struggling in their classes. They were divided into intervention and control groups. Students in the intervention groups were given information that told them it was normal to struggle in the first year of college. The goal of the study was for the students to edit their own narratives.
Compared with the controls, those in the intervention groups performed better on a sample test. In the long term, students in the intervention group had higher grade point averages and a lower drop out rate compared with controls.
In another study, some African-American students were asked to make a video or write an essay about college life to be seen by future students. Compared with those who did not make a video or essay, those who did achieved higher grades in the months afterward.
Another study focused on 120 married couples. Some couple were asked to write about a conflict as if they were a neutral observer. Compared with the control group, those who looked at their problems through writing experience greater improvements in marital happiness.
The researchers believe that making people face their problems through writing helps them see things in a new way, creating the opportunity for them to change.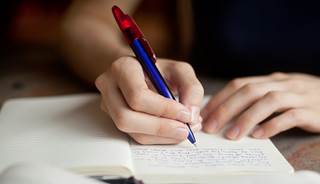 Writing about personal problems can help people see ways to overcome them.
The scientific research on the benefits of so-called expressive writing is surprisingly vast. Studies have shown that writing about oneself and personal experiences can improve mood disorders, help reduce symptoms among cancer patients, improve a person's health after a heart attack, reduce doctor visits and even boost memory.
Now researchers are studying whether the power of writing — and then rewriting — your personal story can lead to behavioral changes and improve happiness.
The concept is based on the idea that we all have a personal narrative that shapes our view of the world and ourselves. But sometimes our inner voice doesn't get it completely right. Some researchers believe that by writing and then editing our own stories, we can change our perceptions of ourselves and identify obstacles that stand in the way of better health.
Sign Up for Free e-newsletters
Check out what's trending