July 29, 2015
More Widespread Use of Motivational Interviewing Encouraged
the Psychiatry Advisor take:
Motivational interviewing is a powerful tool for enabling patients to act on negative emotions and diminish suffering, according to Jeff Kane, MD, founder of psychosocial support programs at the Sutter Cancer Center in Sacramento and Sierra Nevada Cancer Center in Grass Valley, both in California, and author of the book Healing Healthcare: How Doctors and Patients Can Heal Our Sick System.
In a blog on KevinMD.com, Kane emphasized that emotions such as fear, anxiety, depression, loneliness, confusion, and despair are only treatable if listened for. Although motivational interviewing has traditionally been used to promote behavior changes such as quitting smoking, drinking, and overeating, the technique can also be applied to other areas of medicine in which patients experience suffering as a concomitant symptom of other serious illness.
Asking patients head on about what bothers them about their disease or condition, may initially be seen as offensive, but Kane explained that asking patients to seriously and sincerely consider such questions can help them arrive at their own answers in a way that's therapeutic.
He encouraged all healthcare providers to listen for motivational clues in addition to diagnostic clues when taking patient histories to achieve more effective and sensitive treatment plans for patients who are suffering.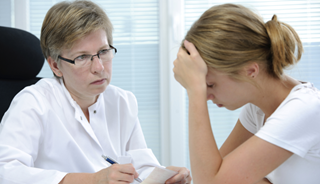 Motivational interviewing is a technique to help patients recognize their internal sources of behavior.
The acronym "MI" has traditionally meant myocardial infarct, or heart attack. Recently it's taken on a new, more salubrious meaning: motivational interviewing.
A growing number of docs are practicing this technique, which amounts to listening to patients to help them recognize their internal sources of behavior. Boston's NPR affiliate, WBUR, describes typical MI interventions in which doctors, instead of demanding that patients stop smoking or drinking or overeating, gently encourage them to get in touch with their reasons for pathogenic behaviors, a process which leaves them more likely to change.
This article originally appeared
here.
Sign Up for Free e-newsletters
Check out what's trending