December 04, 2014
Inhalable Antipsychotics Could Help ED Physicians
the Psychiatry Advisor take:
Although only one has been approved so far by the FDA, inhaled antipsychotics may become commonplace in hospital emergency departments (EDs) as a way for physicians there to administer medications to severely agitated patients more easily.
If an agitated psychiatric patient is presented in an ED now, they are often given antipsychotic medications like haloperidol or droperidol via intramuscular (IM) injection. However, doing this can be unsafe, scary, or even violent, according to Christopher M. Tedeschi, MD, an assistant clinical professor of emergency medicine at Columbia University Medical Center in New York City.
The approval of loxapine (Adasuve), the first inhaled antipsychotic approved by the FDA in March for agitation in schizophrenia and bipolar disorder, could be a game-changer, Tedeschi writes in MedPage Today. One of the key advantages of loxapine is that the drug can take effect in just a matter of minutes, faster than a medication given via IM injection or a pill.
However, given tight restrictions on administration of loxapine due to pulmonary side effects, it can only be used under professional supervision. And Tedeschi writes that ED clinicians may not want to deal with potential side effects and administrative steps in using the drug as a result.
And he adds, it may be difficult to convince these clinicians, most of whom lack a psychiatric background, of the benefits of using loxapine.
"It may be difficult to convince emergency physicians without specialized psychiatric expertise that it is preferable to encourage agitated patients to cooperate with an inhalation device, rather than an IM injection or even an orally dissolving tablet," Tedeschi says. "Even in compliant patients accustomed to using such devices, some degree of motivation and coordination is required."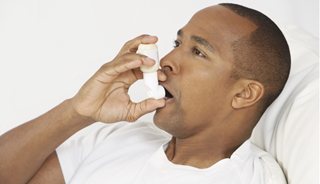 Inhalable Antipsychotics Could Help ED Physicians
Emergency physicians often struggle with acutely agitated patients, balancing the hope that patients will improve with oral medications against the often dangerous options of physical restraint or involuntary medications.
For psychiatric patients, that often means intramuscular antipsychotic medications such as haloperidol or droperidol, with or without benzodiazepines. The process can be unsafe, scary, or even violent. But faster and safer options may be on the horizon — in March of this year, the FDA approved loxapine (Adasuve) for the treatment of agitation in the setting of schizophrenia and bipolar disorder, thus introducing to the U.S. market the first inhaled antipsychotic.
Sign Up for Free e-newsletters