August 28, 2015
'Depressive Mixed States' Often Precede Suicide Attempts
the Psychiatry Advisor take:
"Depressive mixed states," where a patient is depressed, but also has symptoms of mania, is one of several bevavior patterns identified that often precedes suicide attempts, a discovery that may help clinicians treating depressed patients.
Dina Popovic, MD, PhD, of the Hospital Clinic of Barcelona, Spain, and colleagues, conducted the BRIDGE-II-MIX study, which included 2,811 depressed patients, 628 of whom had attempted suicide. The patients were interviewed by psychiatrists, with an eye toward the characteristics and behaviors of those who had attempted suicide.
Forty percent of depressed patients that attempted suicide had a mixed episode, and not just depression, the researchers found. Also, patients who exhibit mixed depressive episodes are at a significantly higher risk of suicide.
Further analysis of the interviews found that risky behavior, psychomotor agitation and impulsivity in a depressed patients increases their risk of attempting suicide by at least 50%.
"Most of these symptoms will not be spontaneously referred by the patient, the clinician needs to inquire directly, and many clinicians may not be aware of the importance of looking at these symptoms before deciding to treat depressed patients," Popovic said in a statement.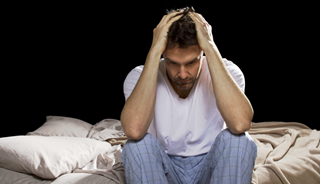 Study finds that 40% of depressed patients who attempted suicide had a mixed episode.
A major multi-national study of suicides has identified the behavior patterns which precede many suicide attempts. This may lead to changes in clinical practice in the care of patients affected with depression, as it shows the clinical factors which confer major risk of suicide attempts.
The statistics for suicide are frightening. According to the WHO, more than 800,000 people commit suicide every year, with perhaps 20 times that number attempting suicide. Suicide is one of the leading causes of death in the young (in the UK for example, it is the leading cause of death in men under 35) see notes, below. Effective measures of suicide prevention are urgently needed.