February 04, 2015
Treating Insomnia Reduces Suicidal Thoughts in Veterans
the Psychiatry Advisor take:
Treating insomnia in veterans significantly reduces suicidal ideation, according to a new study published in the journal Sleep.
After six sessions of cognitive-behavioral therapy for insomnia (CBT-I), rates of suicidal ideation decreased by 33%. The reduction in insomnia therapy was associated with a concurrent decrease in suicidal ideation, and this relationship was still significant after adjusting for variables such as depression severity.
More than 50% of veterans who served in Iraq or Afghanistan report symptoms of insomnia. The United States Department of Veterans Affairs health care system is focusing on lowering these high rates of insomnia by training more therapists in CBT-I.
The new study included 405 veterans who had been diagnosed with insomnia disorder. Each participants underwent CBT-I in in primary care and mental health treatment settings. Approximately 83% of the veterans reported combat experience, and the mean participant age was 52 years.
Not only did the CBT-I reduce symptoms of insomnia and suicidal ideation, the therapy also reduced depression severity and led to an improved quality of life.
"Chronic insomnia is especially common among veterans who have put their lives at risk in service to our country," said Timothy Morgenthaler, MD, president of the American Academy of Sleep Medicine. "This study emphasizes that effectively treating insomnia can be life-changing and potentially life-saving for veterans who may be struggling with problems such as depression, suicidal thoughts, and post-traumatic stress disorder."
These results indicate that reducing insomnia severity should be an important focus among veterans and other patients who are at risk for suicide.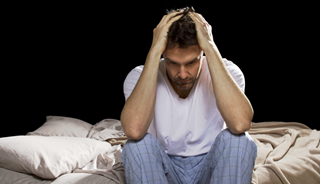 Treating Insomnia Reduces Suicidal Thoughts in Veterans
A new study is the first to show that the treatment of insomnia in veterans is associated with a significant reduction in suicidal ideation.
Results show that suicidal ideation decreased by 33% following up to six sessions of cognitive-behavioral therapy for insomnia (CBT-I). Further analysis found that the reduction in insomnia severity achieved during CBT-I was associated with a concurrent decrease in the odds of suicidal ideation.
This relationship remained significant after controlling for potential confounders such as change in depression severity.
Sign Up for Free e-newsletters
Check out what's trending