October 28, 2014
Sexsomnia: A New DSM-5 Diagnosis
the Psychiatry Advisor take:
A disorder that involves engaging in sexual behavior while still asleep was added to the DSM-5 last year and it is something clinicians should be aware of.
Brandon Moore, MD, a psychiatry resident at Western Michigan University in Kalamazoo, made a presentation on sexsomnia at the recent American Academy of Psychiatry and the Law annual meeting that focused on a case study.
The patient, a 44-year-old male, went to a physician for treatment of what he thought was restless legs syndrome. After interviews of both him and his wife, it was determined that over a span of 20 years, he had engaged in sexual behavior, including intercourse, while sleeping.
A polysomnograph also found that during non-REM sleep, the patient "had at least one episode of the patient rubbing his buttocks," according to Moore's poster presentation. He added that the patient had an "early very early sexual history," which might make sexsomnia more likely.
The patient was treated with clonazepam (Klonopin), and that has helped to reduce the sexsomnia episodes, Moore told MedPage Today. In addition having sex while asleep is a noted, through rare, side effect in some prescription insomnia medications, including zolpidem (Ambien).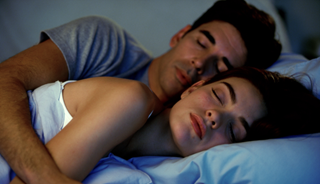 Sexsomnia: A New DSM-5 Diagnosis
Sexsomnia — engaging in sexual activity while asleep -— is something physicians may want to consider as a diagnosis in some patients, Brandon Moore, MD, said at the annual meeting of the American Academy of Psychiatry and the Law.
The disorder can take different forms, "as mild as [patients] rubbing their buttocks or genitals to self-gratification" and even intercourse, Moore, a fourth-year psychiatry resident at Western Michigan University, in Kalamazoo, told MedPage Today in a phone interview.
Sign Up for Free e-newsletters