May 04, 2015
Insomnia Linked to Increased Pain Sensitivity
the Psychiatry Advisor take:
People who have insomnia may have more to worry about than just lost sleep. They may also be more sensitive to pain.
Researchers in Norway made that conclusion after they conducted a study of more than 10,000 adults from an ongoing health study there. Participants were asked to keep their hand submerged in cold water for 106 seconds, a standard test of pain sensitivity known as a cold pressor test.
They were also asked about any sleep problems, total amount of sleep they got and time to fall asleep. Researchers also looked into other factors that might influence sleep and pain, such as chronic pain, or depression and anxiety.
While 42% of participants with insomnia took their hand out before the end of the test, only 31% of those who didn't report insomnia did, the researchers reported in the journal PAIN. In addition, decreased pain tolerance was 52% higher for those who has insomnia more than once a week, but only 24% higher with those with insomnia just once a month.
And patients with both insomnia and chronic pain were more than twice as likely to have low pain tolerance.
While psychological factors may explain the relationship between reduced sleep and less pain tolerance, researchers say may work needs to be done in this area. They also say additional studies are needed on neurotransmitters, such as dopamine, for their influence on sleep and pain.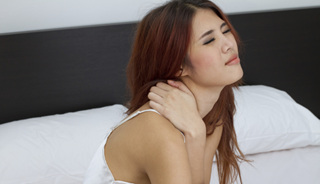 Insomnia Linked to Increase Pain Sensitivity
People who suffer from insomnia and other sleep difficulties have greater sensitivity to pain, according to a new study published in the journal PAIN. The effects are strongest in those who suffer from both insomnia and chronic pain.
The study involved more than 10,400 adults from a large ongoing Norwegian health study. Each participant underwent a standard test of pain sensitivity, known as the cold pressor test, in which they were asked to keep their hand submerged in a cold water bath.
Participants also reported on various types of sleep impairments, including insomnia, total sleep time, and sleep latency (time to falling asleep). Researchers assessed the relationships between measures of sleep impairment and pain sensitivity. They also investigated other factors that could potentially affect sleep impairment and pain perception, including chronic (persistent or recurring) pain and psychological distress (such as depression and anxiety).
Sign Up for Free e-newsletters