August 05, 2014
Insomnia in Teens Can Worsen Depression and Anxiety
the Psychiatry Advisor take:
Teens who are night owls and subsequently have insomnia can exacerbate their depression, as well as other mental disorders.
Worldwide, about 11% of teens aged 13 to 16 years experience insomnia.
"Having insomnia in addition to anxiety or depression can further intensify the problems being experienced with each individual disorder," Pasquale K. Alvaro, a PhD student in the School of Psychology at the University of Adelaide in Australia. "It can lead to such problems as alcohol and drug misuse during adolescence."
Alvaro and his colleague evaluated 318 adolescents aged 12 to18 years to examine the link between insomnia, depression and anxiety disorders.
Nearly 25% of respondents said they had experienced sleep or mental health problems, the researchers wrote in Sleep Medicine. The most common problems reported were insomnia (11.2%) followed by major depressive disorder (8.4%). Depression and insomnia were independently associated with each other, as was insomnia and generalized anxiety disorder.
The researchers said that their findings support the idea that an "eveningness chronotype" -- a tendency to be more active at night -- is a risk factor for insomnia and depression.
"Based on our evidence, we believe that prevention and treatment efforts for insomnia and depression should consider this combination of mental health, sleep, and the eveningness chronotype, in addition to current mainstream behavioral approaches," they added. "Prevention and treatment efforts for anxiety subtypes should also consider focusing on insomnia and depression."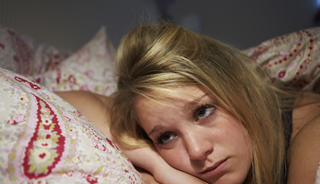 Insomnia in Teens Can Worsen Depression and Anxiety
A study of high school students by University of Adelaide psychology researchers has shed new light on the links between
insomnia
-related mental health conditions among teens.
Sign Up for Free e-newsletters