July 14, 2015
Narcolepsy Symptoms Increase Risk of Falls in Seniors
the Psychiatry Advisor take:
Excessive daytime sleepiness is likely a major contributing factor to falls experienced by older adults, according to a study published in BMC Geriatrics.
Problems with sleep are common in older adults, with about 15% experiencing excessive daytime sleepiness due to a change in quality and quantity of nocturnal sleep or other underlying conditions, such as obstructive sleep apnea. Problems associated with these symptoms may also be linked to comorbid psychiatric conditions and lifestyle factors, such as a lack of physical activity.
The study assessed history of falls, fall risk, and sleepiness in 367 women aged 60 to 93 years and 451 men aged 60 to 92 years who were part of the Geelong Osteoporosis Study between 2001 and 2008. Prior falls were self-reported, and the Elderly Fall Screening Test (EFST) was used to predict fall risk scores in men. Sleepiness was assessed using the Epworth Sleepiness Scale (ESS), with scores of ≥10 indicating excessive daytime sleepiness (EDS).
Among female participants, those with EDS (13.6%) were more likely to report a fall, especially one that occurred outside. EDS was also associated with an increased risk of falling after adjustment for use of a walking aid, cases of nocturia, and use of antidepressants (adjusted OR = 2.54, 95 % CI 1.24-5.21). Among the 16% of men that reported EDS, a significant trend between EDS and a high fall risk was observed, however the trend was attributed to age (age adjusted OR = 2.20, 95 % CI 1.03-1.10).
The researchers suggest that taking action to alleviate sleep problems attributed to EDS may help improve functional outcomes and reduce fall risk.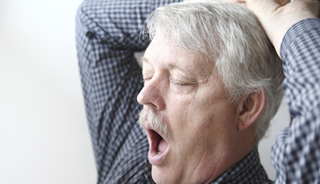 About 15% of seniors experience excessive daytime sleepiness, which can be related to sleep apnea or comorbid psychiatric conditions.
Excessive daytime sleepiness (EDS) has been associated with an increased risk for falls among clinical samples of older adults. However, there is little detailed information among population-representative samples. The current study aimed to assess the relationship between EDS and falls among a cohort of population-based older adults.
This study assessed 367 women aged 60-93 years (median 72, interquartile range 65-79) and 451 men aged 60-92 years (median 73, interquartile range 66-80) who participated in the Geelong Osteoporosis Study between the years 2001 and 2008.
Sign Up for Free e-newsletters
Check out what's trending