January 06, 2015
Electronics in Bedroom Mean Less Sleep for Children
This article originally appeared
here.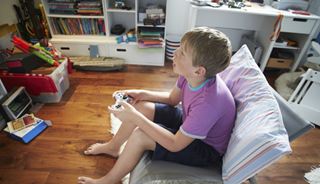 Electronics in Bedroom Mean Less Sleep for Children
HealthDay News — Sleep duration is associated with sleeping near a small screen, sleeping with a television in the room, and more screen time, while perceived insufficient rest or sleep correlates with the presence of a small screen and screen time, according to a study published online in Pediatrics.
Jennifer Falbe, ScD, MPH, from the University of California at Berkeley, and colleagues examined correlations between different screens in sleep environments and sleep duration and perceived insufficient rest. Data were collected from 2,048 fourth- and seventh-graders participating in the Massachusetts Childhood Obesity Research Demonstration Study in 2012 to 2013.
The researchers found that children who slept near a small screen reported 20.6 fewer minutes of sleep, and those who slept in a room with a television reported 18.0 fewer minutes of sleep. The prevalence of perceived insufficient rest or sleep was higher for children who slept near a small screen (prevalence ratio, 1.39).
Both sleep outcomes correlated with television or DVD viewing and video or computer game playing (P < 0.01). Among Hispanic, non-Hispanic black, and older children, some associations were stronger.
"These findings caution against unrestricted screen access in children's bedrooms," the authors write.
References
Falbe J, et al. Sleep Duration, Restfulness, and Screen in the Sleep Environment. Pediatrics. 2015; doi: 10.1542/peds.2014-2306.