September 19, 2014
CBT Can Help Reduce Insomnia
the Psychiatry Advisor take:
Patients suffering from insomnia may get a better night's sleep if they participate in cognitive behavioral therapy (CBT).
Michael R. Irwin, MD, of the David Geffen School of Medicine at the University of California at Los Angeles, and colleagues found that CBT was more effective at reducing insomnia compared with movement and breathing exercises or having patients take a sleep seminar.
Patients treated with CBT has a reduced insomnia rate that was almost double of either of the other two treatments, the researchers reported in the journal Sleep. CBT was also associated with fewer reports of fatigue or depressive symptoms.
The researchers conducted a clinical trial of 123 adults aged 55 and older who were randomized to receive either CBT, tai chi chah or sleep seminar education for two-hour group sessions weekly over four months. Follow-up was conducted after seven and 16 months.
They found that reducing insomnia can also reduce inflammation, thus lowering the risk of chronic disease. Treating insomnia led to decreases in a known marker of inflammation found in blood plasma known as C-reactive protein (CRP).
"What we found particularly intriguing was that the levels of the CRP inflammatory marker remained low even 16 months after treating the insomnia," Irwin said in a statement.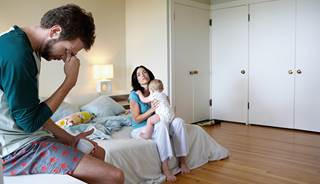 CBT Can Help Reduce Insomnia
Lack of sleep can make you sick. And while everybody has the occasional restless night, for those who suffer from chronic insomnia — some 15 percent of older adults in the United States — that sleep loss can increase the risk for cardiovascular disease, hypertension, weight gain, type 2 diabetes, and even lead to an earlier death.
The reason for the increased risk of health problems is thought to be an association between insomnia and an increase in inflammation throughout the body that becomes chronic. Though inflammation can be a good thing — part of a robust immune response that heals injury and fights infection, chronic inflammation can damage and kill healthy cells, leading to disease.
Sign Up for Free e-newsletters
Check out what's trending