September 30, 2015
At Risk Teens For Psychosis More Concerned About Symptoms Than Stigma
the Psychiatry Advisor take:
Young people deemed at high risk for psychosis find more stigma in the symptoms associated with the condition than in the labeling associated with it.
Lawrence H. Yang, PhD, of the Mailman School of Public Health at Columbia University, and colleagues conducted a prospective cohort study at the New York State Psychiatric Institute at the Center of Prevention and Evaluation (COPE), which offers treatment and resources to participants about early symptoms and risk of schizophrenia.
Young people enrolled in the program were told that while they were at increased risk for psychosis, they were not likely to develop the condition. But they were also advised that if they develop psychosis, they would receive treatment quickly.
They were also told that if they did develop psychosis, they would receive immediate treatment, which tends to be effective. In this study, which was published in the journal Schizophrenia Research, young people were asked about their stigma experiences on average about 11 months after they entered the COPE program.
"We were able to distinguish feelings of stigma due to attending a specialized high-risk clinic from the stigma of having symptoms and experiences," Yang said in a statement. "While the stigma of symptoms and experiences appear greater, the results indicate that both forms of stigma provide targets for intervention."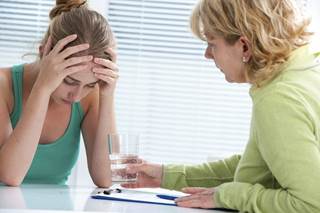 A new study finds that at-risk teens are more concerned about the symptoms associated with psychosis than the stigma associated with it.
A new philosophy in care for young people labeled at risk for mental illness involves early intervention before the onset of full-blown psychosis.
However, despite the obvious benefit of schizophrenia prevention, the potential harm and risks inherent in identifying and labeling young people at risk has been unknown.
Now, a new study discovers that young people identified as at clinical risk for psychosis reported a greater stigma associated with the symptoms that led them to seek help than the risk label, or the stigma of coming to a specialized clinic.
Sign Up for Free e-newsletters
Check out what's trending