July 13, 2015
Smoking May Boost Psychosis Risk
the Psychiatry Advisor take:
Smoking cigarettes can lead to more than just lung cancer, emphysema, and other medical conditions. It may also increase a person's risk of developing psychosis.
Researchers at the King College London's Institute of Psychiatry, Psychology & Neuroscience (IoPPN) completed a meta-analysis comprised of 61 observational studies that included nearly 15,000 people who used tobacco and 273,000 non-smokers.
More than half of the people — 57% — who had been diagnosed with a first psychotic episode were also smokers, the researchers reported in Lancet Psychiatry. Participants who presented with a first episode of psychosis were more than three times as likely to be smokers than non-smokers.
Also, daily smokers tended to develop their psychosis about a year before non-smokers did.
The authors say that while their results suggest that smoking may have some causal role in developing psychosis, they could not definitively make a direct association between the two. They also conceded that few of the studies in the meta-analysis controlled for other substances used by subjects, such as marijuana, which can influence psychosis risk.
"While it is always hard to determine the direction of causality, our findings indicate that smoking should be taken seriously as a possible risk factor for developing psychosis, and not dismissed simply as a consequence of the illness," James MacCabe, PhD, FRCPsych, a clinical senior lecturer in psychosis studies at IoPPN and a study author, said in a statement.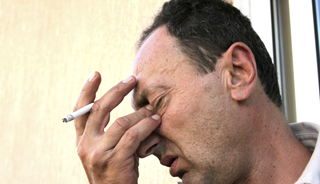 Almost 60% of people diagnosed with a first episode of psychosis were also smokers.
A new study by researchers at King's College London suggests that smoking tobacco is associated with an increased risk of developing psychosis.
People who suffer from psychosis are three times more likely to smoke cigarettes than healthy controls, according to the meta-analysis published in Lancet Psychiatry. Although the association between smoking cigarettes and psychosis — particularly schizophrenia — has been acknowledged before, scant attention has been directed towards the possibility that cigarettes themselves may increase the risk of psychosis.
Instead, in the past, various different explanations have been proposed for why people with psychosis are more likely to smoke compared with the rest of the population. These include relief from boredom or distress, and self-medication, whereby smoking counteracts the negative symptoms of schizophrenia or the side-effects of antipsychotic medication.
Sign Up for Free e-newsletters
Check out what's trending