January 23, 2015
Schizophrenia May Be Eight Distinct Conditions
the Psychiatry Advisor take:
Researchers have identified eight distinct genetic groups related to schizophrenia, each with its own set of symptoms, according to a new study from the University of Granada.
Previously, researchers have struggled to identify which genes are associated with an increased risk of schizophrenia. In this new study, the researchers looked at how genes interacted instead of simply focusing on associations between certain genes and schizophrenia.
The study included 4,196 patients with schizophrenia and 3,200 controls. The patients with schizophrenia were grouped according to severity and type of symptoms. "Positive symptoms" were things such as hallucinations or deliriums; "negative symptoms" were things like lack of initiative, problems with organizing thoughts, and lack of communication between emotion and thought.
The researchers classified the patients into eight different diseases based on symptom profiles. They identified 42 gene groups that appear to influence schizophrenia risk. The researchers believe that these genes contribute to a 70% to 100% schizophrenia risk, implying that it is almost impossible for people with certain genetic variants to avoid developing the condition.
The researchers replicated their results in two independent samples of patients with schizophrenia.
The results indicate that identifying different genetic groups in patients with schizophrenia can help in the development of targeted treatments.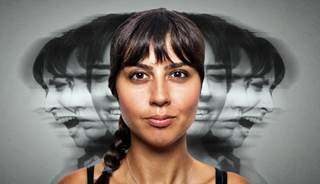 Gene groups suggest that schizophrenia may be made up of eight distinct conditions.
Rather than being a single condition, new research published in the American Journal of Psychiatry suggests that schizophrenia may be a group of eight genetically different diseases - each with their own symptoms.
Schizophrenia affects about 1% of the world's population. Previous research has suggested that 80% of the risk for having schizophrenia is hereditary. Historically though, scientists have struggled to pinpoint which genes increase risk for schizophrenia.
Despite this, in 2014, researchers from Cardiff University School of Medicine in the UK reported that they had linked 108 genes - 83 of them newly discovered - to schizophrenia.
Sign Up for Free e-newsletters