July 13, 2015
FDA Approves New Schizophrenia, Depression Drug Brexpiprazole
the Psychiatry Advisor take:
Clinicians who treat patients with schizophrenia will soon have a new medication in their treatment armamentarium with the FDA's approval of brexpiprazole (Rexulti), which was developed by pharmaceutical companies Otsuka and Lundbeck.
Brexpiprazole is approved as monotherapy to treat adults with schizophrenia, and as an adjunct treatment in adults with major depressive disorder (MDD). The companies said the new drug will be available to patients early next month.
The drug is an oral medication dosed once daily. For schizophrenia, patients should start with treatment of brexpiprazole with 1 mg once daily, and then titrate up to as much as 4 mg. For MDD, patients should begin with 0.5 mg or 1 mg, and can be titrated to as high as 2 mg.
The approval of brexpiprazole was based on four, placebo-controlled phase III clinical trials (two each for schizophrenia and MDD). In one of the schizophrenia trials, the change in PANSS (Positive and Negative Syndrome Scale) total score from baseline for brexpiprazole at 2 mg/day and 4 mg/day (-20.73 and -19.65, respectively) was greater than that seen with a placebo (-12.01).
"In the clinical trials that led to the FDA's approval, adding brexpiprazole to ongoing antidepressant therapy helped MDD patients improve unresolved symptoms of MDD." Michael E. Thase, MD, director of the Mood and Anxiety Program at the University of Pennsylvania School of Medicine, Philadelphia, and a study investigator said in a statement.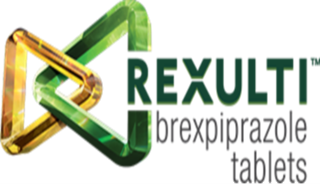 Rexulti (brexpiprazole) is approved as a monotherapy in schizophrenia and an adjunct in patients with major depression.
Otsuka Pharmaceutical Co., Ltd. (Otsuka) and H. Lundbeck A/S (Lundbeck) announced today that the U.S. Food and Drug Administration (FDA) approved Rexulti (brexpiprazole) as an adjunctive therapy for the treatment of adults with major depressive disorder (MDD) and as a treatment for adults with schizophrenia. Rexulti was discovered by Otsuka and co-developed with Lundbeck. It will be co-marketed by the two companies and is expected to become available to patients in the U.S. in early August 2015.
The mechanism of action of Rexulti in the treatment of MDD or schizophrenia is unknown. However, the efficacy of Rexulti may be mediated through a combination of partial agonist activity at serotonin 5-HT1 and dopamine D2 receptors, and antagonist activity at serotonin 5-HT2A receptors. In addition, Rexulti exhibits high affinity (subnanomolar) for these receptors, as well as for noradrenaline alpha1B/2C receptors