November 06, 2015
New Culturally-Informed Treatment for Schizophrenia Caretakers
the Psychiatry Advisor take:
A new program for caregivers of those with schizophrenia takes cultural considerations into account in providing assistance.
Researchers at the University of Miami, Florida, developed the culturally-informed treatment for schizophrenia (CIT-S), which incorporates sections on spiritual, religion, or family collectivism to existing psychoeducation elements.
In their study, participants underwent the CIT-S program for 15 weeks. Among the subjects, 60% were Hispanic, 28% Caucasian, 8% African-American and 4% "other."
During the spirituality module, family members were taught to access their beliefs and practices, such as prayer, mediation, or attending religious services, to help cope with a loved one's schizophrenia. In the family collectivism module, participants worked to develop the idea they were working as a team toward a common goal.
CIT-S lead to a reduction in caregiver burden, guilt, and shame, the researchers reported in the journal Psychotherapy.
"We wanted to develop a treatment intervention that taps into cultural beliefs and values that we hypothesized would make the treatment more engaging and relatable to many ethnic minorities that do not necessarily embrace the current mental health care system," Amy Weisman de Mamani, PhD, said in a statement.
In the future, the researchers would like to test whether CIT-S can outperform a control treatment that includes all of the components of CIT-S, except those that directly tap into participants' cultural beliefs, values, and behaviors.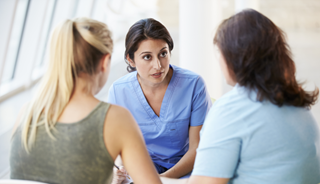 The culturally-informed treatment for schizophrenia (CIT-S) incorporates sections on spiritual, religion, and family collectivism.
Schizophrenia is a chronic, severe and disabling psychiatric disorder that affects about 1% of the population in the United States. Approximately 60% of those suffering from this condition live with a relative. Despite the fact that that family interventions have shown to significantly improve outcomes for individuals with schizophrenia, only about seven percent of patients with this illness receive any family therapy.
A novel culturally-informed treatment focused on caregivers of people with schizophrenia offers needed support. The treatment developed by researchers at the University of Miami (UM) College of Arts and Sciences utilize the cultural believes, values and behaviors of caregivers to help them cope with the stress of caring for a loved one with schizophrenia.
Sign Up for Free e-newsletters
Check out what's trending