September 17, 2014
People With Schizophrenia May Smoke to Self-Medicate
the Psychiatry Advisor take:
The reason why many people with schizophrenia also smoke may be an attempt to use nicotine as a way to self-medicate away negative symptoms associated with the disease.
Irina Esterlis, PhD, of the Yale School of Medicine, New Haven, Connecticut, and colleagues compared 31 schizophrenia patients — both smokers and non-smokers — to a control group of 31 subjects and examined the availability of high-affinity β2-subunit-containing nicotinic acetylcholine receptors (β2*-nAChRs) in the brain.
The level of nicotine receptors in the brain was lower in the group with schizophrenia patients. Nicotine mimics the actions of acetylcholine, a chemical messenger, that stimulates nicotine receptors.
However, as the level of nicotine receptors increased among smokers in the schizophrenia group, those patients exhibited lower level of social withdrawal, had blunted motivational responses, but had better cognitive function, the researchers reported in Biological Psychiatry.
"The data seem to suggest that smoking might produce some clinical benefits for some patients by increasing the availability of receptor targets for nicotine in the brain," John Krystal, MD, editor of the journal, told News-medical.net. "This finding adds to evidence that brain nicotine-related signaling might play a role for new medications developed to treat schizophrenia."
"These findings suggest that β2*-nAChRs may be a target for developing treatments for negative symptoms and cognitive deficits associated with schizophrenia, for which no effective treatments exist," Esterlis added.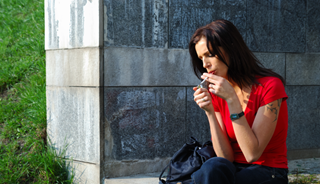 People With Schizophrenia May Smoke to Self-Medicate
Schizophrenia is associated with very high rates of tobacco smoking. The latter may be related to an attempt to self-medicate symptoms and/or to alterations in function of high-affinity β2-subunit-containing nicotinic acetylcholine receptors (β2*-nAChRs).
Smoking and nonsmoking subjects with schizophrenia (n = 31) and age-, smoking-, and sex-matched comparison subjects (n = 31) participated in one [123I]5-IA-85380 single photon emission computed tomography scan to quantify β2*-nAChR availability. Psychiatric, cognitive, nicotine craving, and mood assessments were obtained during active smoking, as well as smoking abstinence.
Sign Up for Free e-newsletters