June 23, 2015
Patients, Psychiatrists Frustrated With Existing Schizophrenia Meds
the Psychiatry Advisor take:
A new survey of adults with schizophrenia, caregivers and psychiatrists indicates that they are all frustrated with the current drugs available for the condition and want medications that can treat schizophrenia while minimizing the side effects.
The "Living With Schizophrenia" survey polled 120 U.S. adults with schizophrenia, 300 adults who care — and are not paid — for an adult with the condition and 151 psychiatrists who have treated schizophrenia patients. The survey was conducted by Harris Poll for Otsuka America Pharmaceutical and Lundbeck.
The two pharmaceutical companies market the antipsychotic aripiprazole (Abilify) and aripiprazole extended-release (Abilify Maintena), a once-monthly injection. They are also working together on a follow-on to aripiprazole called brexipiprazole, which the FDA is expected to make a decision on whether to approve next month.
When participants were asked to choose between managing symptoms or keeping side effects to a minimum, 70% of schizophrenia patients and 74% of caregivers said it was more important to manage symptoms. However, 51% of those with schizophrenia and 56% of caregivers said they felt frustrated with their current antipsychotic drug due to the difficulty of dealing with side effects. And despite taking medication, 73% of schizophrenia patients still report experiencing symptoms of the disease at least once per month.
Meanwhile, most psychiatrists said they were frustrated by medication side effects (90%), compliance (80%) and efficacy of drugs (66%). In addition, 45% of psychiatrists said patients not regularly taking their medication are the largest barrier to successful treatment of schizophrenia.
For more survey results, go here.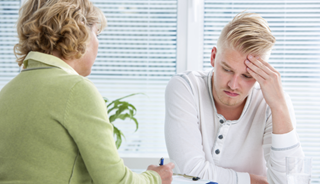 Schizophrenia patients, caregivers and psychiatrists are frustrated with the efficacy and side effects of current antipsychotics.
Results from a recent survey of adults with schizophrenia, caregivers of adults with schizophrenia and psychiatrists imply that surveyed groups may feel frustrated by the tradeoffs being made with current schizophrenia treatment options and may be seeking greater balance in medications— ones that can address the symptoms of schizophrenia, while also reducing side effects.
The Living with Schizophrenia survey was conducted by Harris Poll on behalf of Otsuka America Pharmaceutical, Inc. and Lundbeck between March 26 and April 8, 2015, among 120 U.S. adults ages 18+ who have been diagnosed with schizophrenia; 300 U.S. adults ages 18+ who provide unpaid care to an adult with schizophrenia ("caregivers") and 151 U.S. psychiatrists who treat adults 18+ with schizophrenia. Subjects were invited by email to participate and adults with schizophrenia were not required to currently be on medication for their schizophrenia symptoms.
Sign Up for Free e-newsletters
Check out what's trending