April 08, 2015
Novel Antipsychotic Shows Beneficial Weight Effect
the Psychiatry Advisor take:
Topline results from a Phase II trial of an experimental antipsychotic show the drug was as effective as olanzapine in treating schizophrenia, though with less of a weight gain impact on patients.
The drug, ALKS 3831, is being developed by Alkermes. It is a combination of samidorphan, a novel mu-opioid antagonist, with olanzapine (Zyprexa). ALKS 3831, which is given orally, was designed to alleviate some of the side effect of olanzapine, such as weight gain, and is intended to also be used in patients with alcohol use.
The six-month, Phase II study, which enrolled 300 patients, had two stages. In the first three months, patients received either olanzapine or one of three doses of ALKS 3831. In the second three months, all patients received ALKS 3831.
Results showed that patients who received ALKS 3831 throughout the six months had antipsychotic efficacy on the same level as olanzapine, but with less weight gain. And when olanzapine patients were switched to ALKS 3831 at three months, they experienced a "cessation in weight gain," according to Alkermes.
ALKS 3831 was generally well tolerated over the study period, with somnolence, sedation, and dizziness reported as the most common side effects.
The company says it plans to meet with the FDA soon to discuss the results, with an eye toward starting Phase III testing this year.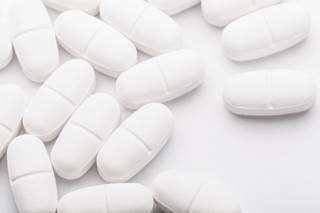 Aripiprazole Lauroxil Effective in Schizophrenia Trial
Topline results from the complete 6-month phase 2 study of a novel oral antipsychotic show that the drug was as effective as olanzapine (multiple brands) with far less weight gain in patients with schizophrenia, the company developing the drug announced today.
The drug, currently known as ALKS 3831, from Alkermes, combines samidorphan, a novel potent mu-opioid antagonist, with olanzapine.
The 300-patient phase 2 study had two stages. During the initial 3 months, patients were randomly assigned to receive olanzapine or one of three doses of ALKS 3831. Antipsychotic efficacy and weight gain were assessed.