October 31, 2014
Measuring Brain Activity May Help in Treatment of Schizophrenia
the Psychiatry Advisor take:
Using electrodes to record brain activity could provide a better way of diagnosing and treating patients with schizophrenia.
While electroencephalography (EEG) is most often used in the diagnosis of epilepsy, Gregory Light, PhD, of the University of California, San Diego School of Medicine, and colleagues, say an EEG test can also be used to measure the efficacy of different treatment options for schizophrenia.
A team that included researchers with the Consortium on the Genetics of Schizophrenia examined nearly 1,800 patients — 963 with schizophrenia, the rest healthy subjects — at five sites nationwide in an attempt to better understand the genetic nature of schizophrenia. The patients listened to a series of beeps and their brain activity in response to them was examined.
Those beeps were then analyzed by two metrics. One is known as mismatch negativity (MMN), which is the difference between the brain's response to the expected stream of beeps and its response to a different ping. The other, called P3a, is a measure of the electrical energy from the brain as it shifts attention to a longer beep.
"We think it may be possible to train some patients' auditory circuits to function better," Light said in a statement. "This could improve their quality of life, and possibly reduce common symptoms of schizophrenia such as hearing voices."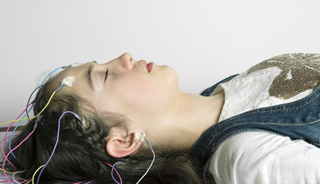 Measuring Brain Activity May Help in Treatment of Schizophrenia
An electroencephalography (EEG) test to study and treat schizophrenia has been validated by researchers. The findings offer a clinical test that could be used to help diagnose persons at risk for developing mental illness later in life, as well as an approach for measuring the efficacies of different treatment options.
A study published online in Schizophrenia Research shows that schizophrenia patients don't register subtle changes in reoccurring sounds as well as others and that this deficit can be measured by recording patterns of electrical brain activity obtained through EEG.
Sign Up for Free e-newsletters
Check out what's trending