June 26, 2015
Long-Acting Injectable Antipsychotics Lead To Better Results Than Oral Versions
the Psychiatry Advisor take:
It's no surprise that many people with schizophrenia who take oral antipsychotics often have trouble adhering to regularly taking the medication, especially after their symptoms start to improve. And a new study indicates that schizophrenia patients who took a long-acting, injectable antipsychotic have a much lower likelihood of having their symptoms return than those who took an oral version of the same medication.
Researchers at the University of California, Los Angeles say their study results indicate that clinicians should consider prescribing a long-acting injectable antipsychotic, rather than a pill, much earlier in treatment than is usually done today.
Kenneth Subotnick, PhD, an adjunct professor of psychiatry at the UCLA's Semel Institute for Neuroscience and Human Behavior, looked at 83 people who were just diagnosed with schizophrenia over one year. About half of the participants were given a pill version of the antipsychotic risperidone (Risperdal) daily, while the others were given the long-acting injectable version of risperidone (Risperdal Consta), which is dosed every two weeks in a clinician's office.
Patients that took the injectable risperidone were more likely to maintain the treatment than their peers who were taking the oral version, and also had better control of psychotic symptoms than the oral group, the researchers reported in JAMA Psychiatry.
Subotnick also noted that the benefits of the injectable antipsychotic tend to be even greater when given to individuals who had schizophrenia for many years, further proof that the injectable version should be an option for patients earlier in the treatment course.
Another benefit of the injectable is that since it is given in a physician's office, doctors can keep track of whether patients are taking their medication. "Because of that, we had nearly perfect adherence to the long-acting form of risperidone," he added.
Other findings were that regular adherence to an antipsychotic led to improvements in cognitive functions. Keith Nuechterlein, PhD, a UCLA psychiatry professor who also worked on the study, said that the next steps are to examine whether there are other benefits to long-acting injectable antipsychotics, and whether the benefits are seen if the injection is dosed only once is month, as is possible with several antispsychotics on the market.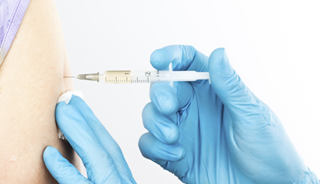 Patients taking a long-acting injectable antipsychotic had better medication adherence and control of symptoms than peers taking a pill version.
Schizophrenia, which affects 2 million to 3 million people in the U.S., causes hallucinations, delusions and disorganization. Left untreated, the disease can cause a significant loss in quality of life, including unemployment and estrangement from loved ones. But many people with schizophrenia can control the disorder and live without symptoms for several years if they consistently take prescribed antipsychotic medication, typically a daily pill.
The problem is that many people don't continue taking their medication once their symptoms improve.
Now, a UCLA study has found that people who took a long-acting injectable form of risperidone — one given every two weeks — had a substantially lower risk for the symptoms returning than people who took the daily medication as a pill.
Sign Up for Free e-newsletters