August 19, 2014
Happiness in Schizophrenia Tied to Resilence, Optimism
the Psychiatry Advisor take:
Despite suffering from a chronic mental condition, people with schizophrenia can still experience happiness in life, no matter the severity or length of time they have had the illness, according to researchers at the University of California, San Diego.
Barton W. Palmer, PhD, and colleagues at the university's Department of Psychiatry examined 72 outpatients with schizophrenia. Sixty-three were on at least one anti-psychotic medication, and 59% were residents in assisted-living facilities. They were compared against a control group of 64 healthy adults. Overall, patients ranged in age from 23 to 70 years and the mean age was 50 years.
About 37% of schizophrenia patients said they were happy most or all of the time, compared with about 83% for those in the healthy group, the researchers reported in Schizophrenia Bulletin.
Among the schizophrenia patients, cognitive or physical function, or socioeconomic factors such as age and education, were unrelated to happiness. Rather, happiness was associated with positive psychological and social attributes such as resilience, optimism and lower perceived stress.
"People with schizophrenia are clearly less happy than those in the general population at large, but this is not surprising," Palmer said. "What is impressive is that almost 40% of these patients are reporting happiness and that their happiness is associated with positive psychosocial attributes that can be potentially enhanced."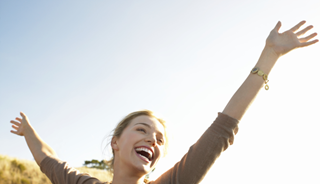 Happiness in People With Schizophrenia Tied to Resilence, Optimism
Schizophrenia
is typically a chronic disorder and among the most severe forms of serious mental illnesses in terms of adverse impact on quality of life. Yet, there have been suggestions that some people with schizophrenia can experience an overall sense of happiness in their lives.
Sign Up for Free e-newsletters
Check out what's trending