April 13, 2015
Experimental Drug Targets Cognitive Impairment in Schizophrenia
the Psychiatry Advisor take:
A drug under development that would be used as an adjunct to antipsychotics improved cognitive impairment in patients with schizophrenia, according to data from a randomized, controlled Phase II trial.
Encenicline, which is being developed by Forum Pharmaceuticals, is intended to address cognitive impairment, something that impacts almost all people with schizophrenia, but which is not adequately addressed by antipsychotics. The drug is an α-7 nicotinic acetylcholine receptor partial agonist
In the trial, which was sponsored by Forum, 319 schizophrenia patients were randomized to receive either encenicline in one of two doses daily, or a placebo, for 12 weeks.
Patients in both encenicline dose groups showed significant cognitive improvement based on various measures, according to a presentation made late last month at the 15th International Congress on Schizophrenia Research. In a subset of 154 patients, the improvement was greater in the higher-dose group (0.9 mg) than the lower-dose cohort (0.27 mg).
"These data shows that pro-cognitive effects in schizophrenia were observed for encenicline as assessed by two independent cognitive measures and a functional measure, Ilise Lombardo, MD, Forum's vice president of clinical research and medical affairs at Forum Pharmaceuticals, told Medscape Medical News.
Lombardo said that two six-month, Phase III trials are underway for encenicline. Each trial is to involve 700 patients.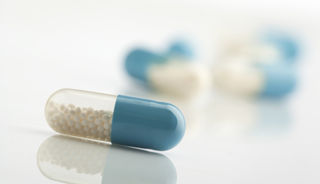 Experimental Drug Targets Cognitive Impairment in Schizophrenia
Encenicline (Forum Pharmaceuticals), a novel α-7 nicotinic acetylcholine receptor partial agonist, shows improvement of cognitive impairment in schizophrenia in a phase 2 randomized, controlled trial, potentially ushering in a long-anticipated treatment for an aspect of the disease not addressed by antipsychotics.
Although cognitive impairment occurs in nearly all (98%) patients with schizophrenia, antipsychotics do not adequately offer improvement.
With its unique mechanism seen as potentially helping to improve memory and cognitive function, encenicline is being studied as an adjunct to antipsychotics in treating cognitive impairment in schizophrenia as well as Alzheimer's disease.
Sign Up for Free e-newsletters
Check out what's trending