September 04, 2014
Difficulty Reading Common in Schizophrenia
the Psychiatry Advisor take:
Patients with schizophrenia tend to have difficulty reading, which leads many with the disease to have reduced educational and job opportunities, though the shortcoming can be corrected.
Nadine Revheim, PhD, a research scientist at the Nathan S. Kline Institute for Psychiatric Research, Orangeburg, New York, and colleagues, examined 45 patients with schizophrenia, 19 patients at high risk for the disease, and 65 control subjects. The participants were given tests to measure visual or phonological reading dysfunction. Neuropsychological and functional outcome measures were also obtained.
Patients with schizophrenia displayed reading deficits that were far more severe (effect size >2.0) than would be predicted based on general neurocognitive impairments (effect size 1.0–1.4), the researchers reported in the American Journal of Psychiatry.
The deficits correlated highly with both visual and auditory sensory measures, including impaired mismatch negativity generation (r=0.62, N=51, P=0.0002).
More than 70% of patients with schizophrenia met criteria for acquired dyslexia, with 50% reading below eighth-grade level. Reading deficits also correlated significantly (rp=0.4, N=30, P=0.03) with failure to match parental socioeconomic achievement, over and above contributions of more general cognitive impairment.
"Patients with schizophrenia display severe deficits in reading ability that represent a potentially remediable cause of impaired socioeconomic function," the researchers concluded. "Such deficits are not presently captured during routine clinical assessment."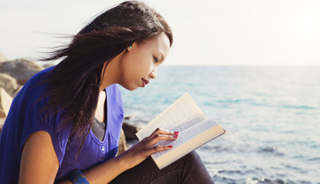 Many Patients With Schizophrenia Have Difficulty Reading
The ability to read passages of information fluently and with comprehension is a basic component of socioeconomic success. Reading ability depends on the integrity of underlying visual and auditory (phonological) systems. This study investigated the integrity of reading ability in
schizophrenia
relative to the integrity of underlying visual and auditory function.
Sign Up for Free e-newsletters
Check out what's trending