July 06, 2015
Lowering Antipsychotic Dose Safe For Older Schizophrenia Patients
the Psychiatry Advisor take:
Clinicians who treat older patients with schizophrenia can safely reduce the antipsychotic dose in this population to minimize side effects without sacrificing the effectiveness of the medication.
Ariel Graff-Guerrero, MD, PhD, with the Center for Addiction and Mental Health in Toronto, and colleagues conducted a trial of 35 patients who were at least 50 years old and had late-life schizophrenia (LLS). All participants were taking either risperidone (Risperdal) or olanzapine (Zyprexa) for between 6 and 12 months.
The antipsychotic dosage was incrementally reduced up to 40% of a patient's baseline dose. Assessment and brain scans were conducted two weeks after the final lowered dose was achieved. Participants were then followed for between 3 and 6 months.
The researchers examined the impact of reducing the dose of the antipscychotic on dopamine D2/3 receptor (D2/3R) occupancies using PET scans. Other studies have indicated that occupancy between 65% and 80% is effective in younger patients, as going above 80% occupancy is associated with extrapyramidial effects.
In the current study, the mean baseline striatal D2/3R occupancy was 70%, but declined to a mean of 64% after the antipsychotic dose was reduced by an average of around 35%. In the 29 participants who remained stable during the follow-up period, mean D2/3R occupancy was 66%, though the lowest occupancy observed was 50%.
"Antipsychotic dose reduction is feasible in patients with stable LLS, decreasing adverse effects and improving illness severity measures," the researchers concluded. "The results of the present study suggest a lower therapeutic window of D2/3R occupancy in patients with LLS (50%-60%) than previously reported in younger patients (65%-80%)."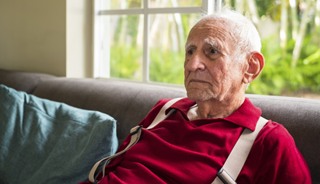 Patients with late life schizophrenia who had their antipsychotic dose reduced had fewer side effects without sacrificing medication efficacy.
Physicians can safely reduce the dose of antipsychotics in patients with late-life schizophrenia, diminishing the potential adverse effects of these medications, researchers found.
In a single-center trial of 35 schizophrenia patients, 80% achieved dose reductions without signs of clinical deterioration, Ariel Graff-Guerrero, MD, PhD, of the Center for Addiction and Mental Health in Toronto, and colleagues reported online in JAMA Psychiatry.
Their findings also suggested a lower therapeutic window for dopamine receptor occupancy than seen in younger schizophrenia patients, they said. While those patients achieve optimal therapy around 65% occupancy, late-life patients may do better at 50% and up.
Sign Up for Free e-newsletters