February 04, 2015
Comprehensive Care After First Psychosis Episode Benefits Youth
the Psychiatry Advisor take:
Comprehensive care that is provided to young people after they experience their first psychosis episode is extremely beneficial as it can allow them to continue their school or work, as well as avoid hospitalization.
Vinod Srihari, MD, of Yale University, and colleagues enrolled 120 patients with psychosis to either a special clinical known as Specialized Treatment Early in Psychosis (STEP) or usual treatment. STEP is designed to provide comprehensive treatment after first episode of psychosis, and includes medication management, cognitive-behavioral therapy, case management with employment and educational support.
Those who were assigned to usual treatment either continued treatment with an existing provider or were referred to one based on their health insurance coverage.
After one year, participants in the STEP program had fewer hospitalizations than those in the usual-care group, the researchers reported in the journal Psychiatric Services in Advance. More than 75% of STEP participants avoided hospitalization, compared with nearly half of the usual-care group. When STEP participants were hospitalized, their stays were much shorter than those in the usual-care group.
In addition, 79% of STEP participants were either employed or in school after one year, compared with 47% in the usual-care group. STEP participants showed improvements in community functioning and were more likely to continue with outpatient mental health services.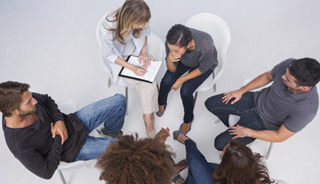 Comprehensive Care After First Psychosis Episode Benefits Youth
Providing comprehensive coordinated care to young people after they experience a first episode of psychosis can help them avoid hospitalization and resume their school and work lives, according to research published today in Psychiatric Services in Advance, a publication of the American Psychiatric Association.
Many clinicians and researchers now regard the first years after psychosis onset as "a window of opportunity" during which evidence-based interventions can stop the downward spiral of functional loss long thought to be the only outcome for people with schizophrenia. In this first U.S. controlled trial of an early intervention model, researchers compared 120 patients randomly assigned to treatment at the clinic for Specialized Treatment Early in Psychosis (STEP) to usual treatment.
Sign Up for Free e-newsletters