August 20, 2015
Structural Changes in Eye May Predict Schizophrenia
the Psychiatry Advisor take:
Monitoring changes in the eye's retina may provide a way to assess the risk for and progression of schizophrenia.
A connection between vision problems and schizophrenia is not new.
The link between vision problems and schizophrenia is well established. As many as 62% of adults with schizophrenia experience visual distortions. And one study found that poor vision at age four predicted a schizophrenia diagnosis as an adult.
Richard B. Rosen, MD, director of ophthalmology research at the New York Eye and Ear Infirmary of Mount Sinai, and colleagues conducted a meta-analysis that included 170 studies and grouped the findings into different categories, such as changes in the retina vs. other parts of the eye, changes related to dopamine vs. other neurotransmitters and key brain chemicals associated with the schizophrenia.
The results of the review, published in the journal Schizophrenia Research: Cognition, found many examples of eye abnormalities being associated with schizophrenia. One example involves widening of small blood vessels in the eyes of schizophrenia patients. This might explain several key vision changes and serve as a marker of disease risk and worsening.
"The retina develops from the same tissue as the brain," Rosen said in a statement. "Thus retinal changes may parallel or mirror the integrity of brain structure and function. When present in children, these changes may suggest an increased risk for schizophrenia in later life."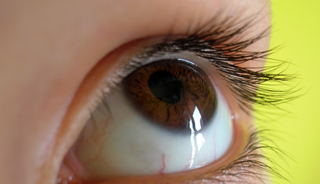 Widening of the blood vessels in the eyes could mark schizophrenia disease risk and worsening.
Schizophrenia is associated with structural and functional alterations of the visual system, including specific structural changes in the eye. Tracking such changes may provide new measures of risk for, and progression of the disease, according to a literature review published online in the journal Schizophrenia Research: Cognition, authored by researchers at New York Eye and Ear Infirmary of Mount Sinai and Rutgers University.
Individuals with schizophrenia have trouble with social interactions and in recognizing what is real. Past research has suggested that, in schizophrenia, abnormalities in the way the brain processes visual information contribute to these problems by making it harder to track moving objects, perceive depth, draw contrast between light and dark or different colors, organize visual elements into shapes, and recognize facial expressions. Surprisingly though, there has been very little prior work investigating whether differences in the retina or other eye structures contribute to these disturbances.
Sign Up for Free e-newsletters