June 11, 2015
Two Studies Find Link Between Cat Ownership and Schizophrenia
the Psychiatry Advisor take:
Two recent studies published in scientific journals are making the argument that owning a cat may greatly increase the risk of developing mental illnesses, especially schizophrenia.
The reason is a parasite found in a cat's intestines that is also present in its feces, Toxoplasma gondii (T. gondii). Humans can get infected with the parasite by coming into contact with the feces and accidentally swallowing T. gondii.
The parasite is known to cause a disease cause toxoplasmosis, which people with healthy immune systems can fight off but those with weakened symptoms are more likely to develop, experiencing flu-like symptoms, and in severe cases, blindness and even death.
In the first new study, published in the journal Schizophrenia Research, Robert Yolken, MD, of the Johns Hopkins University School of Medicine in Baltimore, examined two previous studies, which found a relationship between having a cat as a child and developing schizophrenia later on.
They then compared those results with a 1982 questionnaire from the National Alliance for Mental Illness which found that about 50% of people who had a cat as a child were diagnosed with schizophrenia or another mental illness in later life, compared with 42% who didn't own a cat.
In the second study, published online in Acta Psychiatrica Scandinavica, Argen Sutterland, MD, of the Academic Medical Centre in Amsterdam, and colleagues conducted a meta-analysis of more than 50 studies and found a link between T. gondii and schizophrenia. In addition, those infected with T. gondii are twice as likely to develop schizophrenia as those without the parasite.
They also found links between T. gondii and an increased risk of bipolar disorder, obsessive-compulsive disorder and addiction.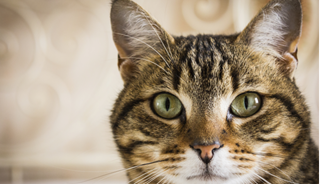 Could having a cat in childhood increase the risk of developing schizophrenia later on?
They are cute, fluffy and have that wide-eyed glare that few of us can resist; it is no wonder more than 95 million of us own a cat. But there may be a darker side to our four-legged friends. New research claims the animals could increase our risk of mental illnesses, including schizophrenia and bipolar disorder.
Two studies published in the journals Schizophrenia Research and Acta Psychiatrica Scandinavica attribute this association to Toxoplasma gondii — a parasite found in the intestines of cats. Humans can become infected with the parasite by accidentally swallowing it after coming into contact with the animal's feces.
Sign Up for Free e-newsletters
Check out what's trending