October 08, 2014
Cardiovascular Risks Seen Early On in Schizophrenia
the Psychiatry Advisor take:
Schizophrenia is known to be associated with an elevated risk of cardiovascular (CV) problems. But it now appears that CV risk factors are seen in patients when they are first diagnosed with the mental illness.
Christoph U. Correll, MD, of Zucker Hillside Hospital in Glen Oaks, NY, and colleagues examined data from the Recovery After an Initial Schizophrenia Episode study, conducted between between July 22, 2010, and July 5, 2012 at 34 mental health treatment facilities.
Nearly 400 patients in that study were aged between 15 and 40 years, had confirmed diagnoses of first-episode schizophrenia, and had less than six months of antipsychotic treatment.
Nearly half of patients — 48.3% — were either obese or overweight, while 50.8% said they smoked, the researchers reported in JAMA Psychiatry. In addition, almost 40% had pre-hypertension and 56.6% percent had high levels of cholesterol and fat in their blood, a condition known as dyslipidemia.
Additional analysis showed olanzapine (Zyprexa) was significantly associated with higher triglycerides, insulin, and insulin resistance, quetiapine (Seroquel) was associated with significantly higher triglycerides to HDL-C ratio (all P ≤ .02).
"Prevention of and early interventions for psychiatric illness and treatment with lower-risk agents, routine antipsychotic adverse effect monitoring, and smoking cessation interventions are needed from the earliest illness phases," the researchers concluded.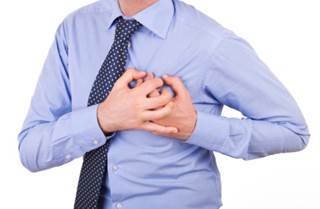 Cardiovascular Risks Seen Early On in Schizophrenia
The fact that individuals with schizophrenia have high cardiovascular morbidity and mortality is well established. However, risk status and moderators or mediators in the earliest stages of illness are less clear.
The objective of the study is to assess cardiometabolic risk in first-episode schizophrenia (FES) spectrum disorders and its relationship to illness duration, antipsychotic treatment duration and type, sex, and race/ethnicity. Baseline results of the Recovery After an Initial Schizophrenia Episode (RAISE) study were collected between July 22, 2010, and July 5, 2012, from 34 community mental health facilities without major research, teaching, or clinical FES programs.
Sign Up for Free e-newsletters
Check out what's trending