June 24, 2014
Cannabis Habit More Likely with Genetic Predisposition to Schizophrenia
the Psychiatry Advisor take:
Previous research has establish an association between cannabis use and schizophrenia, but it is unknown whether cannabis use increases psychosis risk, or whether the same genes that predispose individuals to psychosis predispose individuals to cannabis use.
To better understand this relationship, Robert Power, of the MRC Social, Genetic & Developmental Psychiatry Centre, in the Institute of Psychiatry at King's College London, and colleagues analyzed data from a sample 2,082 healthy individuals, about half of whom had used cannabis.
The researchers assigned participants to a genetic risk profile based on the number of genes associated with schizophrenia that they carried, and then looked at their likelihood of cannabis use.
Participants whose genetic risk profile predisposed them to schizophrenia were more likely to use cannabis (P=2.6 × 10−4), and to use it more (P=3.0 × 10−3), than those who did not carry schizophrenia risk genes, data indicated.
"[T]hese findings suggest that part of the association between schizophrenia and cannabis is due to a shared genetic aetiology. This form of gene–environment correlation is an important consideration when calculating the impact of environmental risk factors, including cannabis use," the researchers reported in Molecular Psychology.
The study findings are particularly important in the context of the debate about legalizing marijuana.
"Certain environmental risks, such as cannabis use, may be more likely given an individual's innate behavior and personality, itself influenced by their genetic make-up. This is an important finding to consider when calculating the economic and health impact of cannabis," they wrote.
Individuals who carry schizophrenia risk genes were more likely to use cannabis and to use it more, than those without the genes.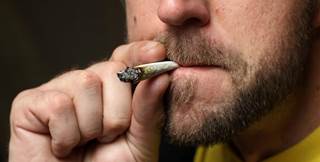 Cannabis Habit More Likely with Schizophrenia Gene
People with schizophrenia and some who use cannabis may have certain genes in common, according to new research. The findings may partly explain the following, long-established link between cannabis use and psychotic disorders: The rate of people who smoke pot is higher among those who are diagnosed with schizophrenia than it is in the general population.
Sign Up for Free e-newsletters
Check out what's trending