July 24, 2014
Apathy in Schizophrenia Related to Discounting Rewards
the Psychiatry Advisor take:
Apathy is one of the two areas that negative symptoms of schizophrenia are associated with, the other being diminished expression. Some scientists believe that apathy could be the result of a dysfunctional assumption involving rewards during decision making.
Researchers at the Psychiatric Hospital of the University of Zurich, Switzerland, led by Matthias N. Hartmann, a PhD student, wanted to find out whether apathy was associated with a discounting of rewards that require physical effort in order to obtain.
A total of 51 patients, 31 of which were diagnosed with schizophrenia, engaged in a computer test to measure discounting in which they could put pressure on a handgrip in order to get a financial reward. Results published in Schizophrenia Bulletin found that the degree of effort in discounting was associated with apathy, yet not with diminished expression.
In addition, the relationship between apathy and effort discounting was not influenced by cognitive ability or antipsychotic medication.
"This study provides the first evidence for a highly specific association of apathy with effort-based decision making in patients with schizophrenia," the researchers concluded. "Within a translational framework, the present effort discounting task could provide a bridge between apathy as a psychopathological phenomenon and established behavioral tasks to address similar states in animals."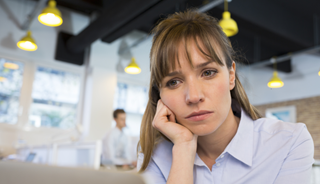 Apathy in Patients With Schizophrenia Caused By Discounting Rewards
Negative symptoms in schizophrenia have been grouped into the two factors of apathy and diminished expression, which might be caused by separable pathophysiological mechanisms.
Recently, it has been proposed that apathy could be due to dysfunctional integration of reward and effort during decision making.
Sign Up for Free e-newsletters