September 15, 2014
Adolescent Psychiatric Disorders Increase Schizophrenia Risk
the Psychiatry Advisor take:
A large-scale, prospective study has found that children and adolescents that are diagnosed with psychiatric disorders at a young age are at a much higher risk of developing schizophrenia.
Cecilie Maibing of the University of Copenhagen, Denmark, and colleagues examined nationwide registries in Denmark of all people born between 1990 and 2000. The cohort was followed unttil December 31, 2012.
Out of the 25,138 individuals with child and adolescent psychiatric disorders, 1,232 individuals were subsequently diagnosed with schizophrenia spectrum disorders, the researchers reported in Schizophrenia Bulletin.
"This may imply that the early pathways to schizophrenia truly go through child psychiatric disorders or that early signs of schizophrenia can mimic other disorders such as OCD, anxiety, and depression," the researchers wrote.
The risk of schizophrenia was high especially in the first year after onset of the child and adolescent psychiatric disorder. That risk remained elevated for more than five years with an incidence rate ratio of 4.93 (95% confidence interval: 4.37–5.54).
"Knowledge about the risk of a subsequent diagnosis of schizophrenia following a psychiatric disorder in the childhood and adolescence might lead to earlier diagnosis and interventions, which can possibly lead to a better prognosis for individuals with schizophrenia" the researchers commented.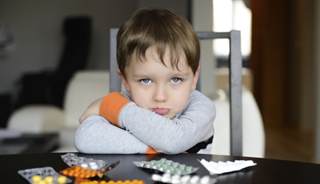 Adolescent Psychiatric Disorders Increase Schizophrenia Risk
Earlier smaller studies have shown associations between child and adolescent psychiatric disorders and
schizophrenia
. Particularly, attention-deficit/hyperactivity-disorder and autism have been linked with schizophrenia. However, large-scale prospective studies have been lacking. We, therefore, conducted the first large-scale study on the association between a broad spectrum of child and adolescent psychiatric disorders and the risk of being diagnosed with schizophrenia.
Sign Up for Free e-newsletters
Check out what's trending