April 29, 2015
Verbal 'Updating' Therapy Could Lessen PTSD Symptoms
the Psychiatry Advisor take:
A type of verbal therapy that involves stopping the combining of different traumatic memories could be applied more widely to victims of trauma before post-traumatic stress disorder (PTSD) develops.
Victoria Pile, PhD, of King's College London, and colleagues examined whether "updating," a technique in which traumatic memories are re-written with factual information, would help to prevent the onset of PTSD.
The researchers evaluated both "updating" as well as a second behavioral technique known as "exposure therapy" which involves presenting the original object of fear long enough to decrease the intensity of an emotional reaction.
In the study, 115 participants watched either movie clips of human or animals in danger, or non-traumatic films (control group). When participants were updated on the fate of the film's characters, the frequency of intrusive memories was reduced by half in the updating group compared to the exposure group, the researchers reported in the journal PLOS ONE.
Also, a self-reported measure of distress was considerably lower in the updating group than the exposure group. Another finding was that strong initial response to the footage predicted the development of PTSD symptoms.
"This research implies that finding out what actually happened as soon as possible after the trauma might change the way the memory is stored and so limit the devastating effects of PTSD," Pile said in a statement.
"It could be particularly relevant for groups regularly exposed to trauma, such as emergency service workers, military personnel and journalists in conflict zones, who have higher rates of PTSD and for whom there are currently no established interventions to prevent the development of PTSD," she added.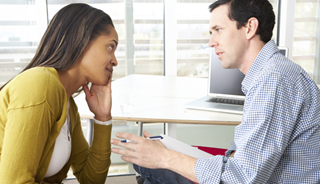 Verbal 'Updating' Therapy Could Lessen PTSD Symptoms
Emerging research suggests a therapy technique that blocks the consolidation of traumatic memories could protect against the long-term psychological and physiological effects of trauma.
In a new study, UK researchers examined whether "updating" — a verbal therapy currently only used for patients with chronic post-traumatic stress disorder (PTSD) — could be applied more widely to victims of trauma before PTSD develops, during a period known as the 'consolidation window'.
As published in the journal PLOS ONE, the study is the first to investigate the expanded use of 'updating' therapy as a preventative agent.
Sign Up for Free e-newsletters
Check out what's trending