July 10, 2015
Video Game Tetris Reduces Intrusive Memories in PTSD
the Psychiatry Advisor take:
Playing Tetris after memory reactivation can reduce intrusive memories in people with post-traumatic stress disorder (PTSD), according to a study published in Psychological Science.
Tetris is a classic, tile-matching puzzle video game where players manipulate falling arrangements of tiles to make complete rows. In the study, participants were assigned to play Tetris or do nothing after reactivation of traumatic memories to gauge the game's effect on intrusive memories.
First, the participants watched films that contained traumatic content, such as public information films about the dangers of drunk driving. The next day, participants were split into two groups. Both groups looked at stills from the film to reactive memories. One group then played Tetris for 12 minutes while the other group did nothing.
The researchers followed up with the participants for a week. Compared with the control group, the participants who played Tetris had significantly fewer intrusive memories.
The researchers believe that the visuospatial task of playing Tetris created more competition for visual working memory resources, thus making it more difficult to reactivate the traumatic memory. The reactivation of the memory and the task of playing Tetris worked together to reduce intrusive memories.
Th findings have implications for new techniques to reduce intrusive memories, a major symptom of PTSD.
"We propose that after memory reactivation, a visuospatial cognitive task (Tetris) that competes for the same working memory resources as the reactivated memory (a cognitive blockade) offers a simple non-invasive way to reduce intrusions of a trauma film," the researchers wrote. "A critical next step is to investigate whether findings extend to reducing the psychological impact of real-world emotional events and media. Conversely, could computer gaming be affecting intrusions of everyday events?"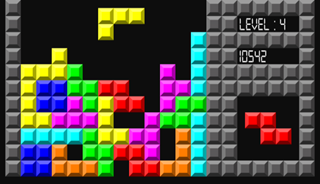 After viewing traumatic videos, people who played Tetris experienced fewer intrusive memories than those who didn't play the video game. Image courtesy of GeeksofDoom.com
Playing the video game Tetris could be used to help treat post-traumatic stress disorder (PTSD), a study has suggested.
The team of researchers from the MRC Cognition and Brain Sciences Unit in Cambridge found playing the visual computer game can reduce the intrusiveness of emotional memories after experiencing traumatic events a day earlier.
Published in the journal Psychological Science, researchers conducted two experiments where participants viewed films with traumatic content, including public information films about the dangers of drink driving.
The following day, the two groups were asked to look at stills of the film in order to reactivate the memory. One group was then asked to play Tetris for 12 minutes while the other group did nothing.
Sign Up for Free e-newsletters
Check out what's trending