October 09, 2014
Surfing As a PTSD Therapy?
the Psychiatry Advisor take:
A British researcher says that having combat veterans take up surfing can alleviate some of the symptoms associated with post-traumatic stress disorder.
Nick Caddick, a PhD candidate at Loughborough Univiersity in Leicestershire, United Kingdom, had 16 military personnel who had done service in places including Iraq and Afghanistan, engage in surfing off of the coast of Cornwall in southwest England.
The research, which will be published in the journal Qualitative Health Research, is the first time so-called "Blue Gym" therapy has been examined. That therapy holds that spending time in environments on or near natural water environments, such as lakes or beaches, can have positive health — including psychological — benefits.
"I asked one man what recovery from PTSD might mean to him, but he didn't talk about a cure," Caddick said, according to Medical News Today. "He just said that being in the water gave him a fantastic sense of freedom and allowed him to forget everything he goes through."
He added that over an 18-month period the veterans spent by the shore surfing, suicidal thoughts, flashbacks, depression and anxiety declined.
"Being in the water is a completely different sensory experience, with the waves smashing over them," Caddick added. "It takes them away from PTSD in a way other activities don't."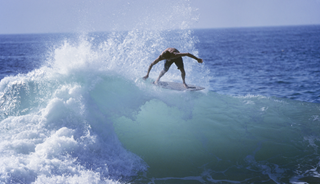 Surfing As a PTSD Therapy?
Surfing can help improve well-being in combat veterans experiencing
post-traumatic stress disorder
and even avert suicidal feelings, according to a Loughborough University researcher. Nick Caddick said some of the veterans from Northern Ireland, Iraq and Afghanistan, who took part in his study, revealed that surfing in Cornwall had not only improved their health and quality of life but saved their lives.
Sign Up for Free e-newsletters
Check out what's trending