December 03, 2014
Structured Exercise Alleviates PTSD Symptoms
the Psychiatry Advisor take:
Engaging in a structured exercise program can ease symptoms and improve recovery in people that suffer from post-traumatic stress disorder (PTSD).
Simon Rosenbaum, PhD, of the George Institute for Global Health in Sydney, Australia, and colleagues recruited 81 patients (84% male) with PTSD to receive either usual care or exercise in addition to usual care. Usual care included psychotherapy, medication and group therapy. Exercise included three, 30-minute resistance-training sessions per week and a pedometer-based walking program.
Patients in the group that had exercise and usual care saw their PTSD symptoms decline much more than those who just received standard care (mean difference = −5.4, 95% CI −10.5 to −0.3, P = 0.04, n = 58), the researchers reported in Acta Psychiatrica Scandinavica.
In addition, there was more improvement in depressive symptoms and sleep quality, and less sedentary time in the exercise group than with the standard care only group.
Rosenbaum said the study is the first to demonstrate that exercise improves symptoms in hospitalized patients with PTSD.
"This study provides the evidence that people suffering from severe PTSD should have an exercise program included as part of their treatment and management," he said in a statement. "It underscores the wider evidence that exercise is a powerful therapy for the mind, and for a variety of mental health conditions."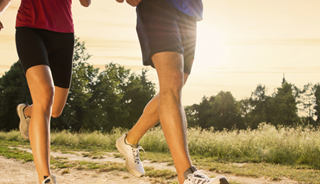 Structured Exercise Alleviates PTSD Symptoms
Structured exercise including resistance training and walking helps people recover from post-traumatic stress disorder (PTSD) as well as other mental health conditions, a new study has revealed. The study was published in the medical journal Acta Psychiatrica Scandinavica.
Study author Simon Rosenbaum, of The George Institute for Global Health and The University of Sydney in Australia, said: "This study provides the first evidence from a clinical trial using hospitalised patients that exercise is associated with reduced PTSD and depressive symptoms, reduced waist circumference and improved sleep quality."
Sign Up for Free e-newsletters