November 12, 2014
Soldiers' Suicide Risk Predictable With Algorithm
This article originally appeared
here.
the Psychiatry Advisor take:
Researchers have developed an algorithm to help predict which soldiers are at highest risk of suicide after they have been hospitalized for a psychiatric condition.
Ronald C. Kessler, PhD, of Harvard Medical School, and colleagues examined 53,769 hospitalizations of active-duty soldiers from January 2004 through December 2009 with psychiatric admission diagnoses. They then sought to identify common factors in the 68 soldiers who took their own lives in the one year after they were discharged from the hospital.
The strongest suicide predictors included sociodemographic factors such as being male and enlisting at a later age, as well as criminal background, aspects of prior psychiatric treatment (such as the number of antidepressant prescriptions filled in 12 months), and disorders diagnosed during the hospitalization, the researchers reported in JAMA Psychiatry.
Nearly 53% of the suicides in the group were in soldiers who were in the 5% of hospitalizations with the highest predicted suicide risk.
The researchers believe that their algorithm could help identify high-risk soldiers who could benefit from preventive intervention.
"The high concentration of risk of suicide and other adverse outcomes might justify targeting expanded posthospitalization interventions to soldiers classified as having highest posthospitalization suicide risk, although final determination requires careful consideration of intervention costs, comparative effectiveness, and possible adverse effects," they concluded.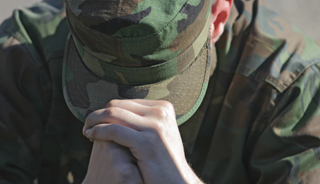 Suicide Risk of Soldiers Predictable With Algorithm
The U.S. Army experienced a sharp increase in soldier suicides beginning in 2004. Administrative data reveal that among those at highest risk are soldiers in the 12 months after inpatient treatment of a psychiatric disorder.
The objective of the study is to develop an actuarial risk algorithm predicting suicide in the 12 months after U.S. Army soldier inpatient treatment of a psychiatric disorder to target expanded posthospitalization care.
There were 53,769 hospitalizations of active duty soldiers from January 1, 2004, through December 31, 2009, with psychiatric admission diagnoses. Administrative data available before hospital discharge abstracted from a wide range of data systems (sociodemographic, U.S. Army career, criminal justice, and medical or pharmacy) were used to predict suicides in the subsequent 12 months using machine learning methods (regression trees and penalized regressions) designed to evaluate cross-validated linear, nonlinear, and interactive predictive associations.