February 07, 2017
Increased Risk of PTSD in Parents of Kids With Critical Heart Defects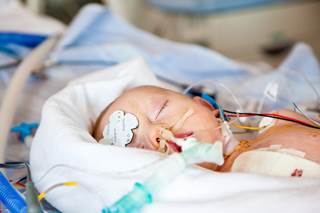 They're also more likely to suffer from depression and anxiety. New mothers are particularly vulnerable.
HealthDay News — Parents of children born with critical congenital heart defects may be at high risk for posttraumatic stress disorder (PTSD) and other mental health problems, according to research published online Feb. 1 in the Journal of the American Heart Association.
Sarah Woolf-King, PhD, MPH, an assistant professor in the psychology department at Syracuse University in New York, and colleagues reviewed published data from 10 countries and found that 30% of parents of children with critical congenital heart defects had symptoms of PTSD.
The researchers also found that between 25% and 50% had symptoms of depression, anxiety, or both, and up to 80% reported severe mental distress. In the general population, 3.5% have PTSD, 18% have had an anxiety disorder in the last year, and 9.5% have a mood disorder. The team also found that mothers of babies with critical congenital heart defects are much more likely than fathers to experience PTSD.
"The parents need extra support and mental health treatment that is feasible and accessible, and one thing that we propose is integrating mental health screening and treatment into pediatric cardiology care," Woolf-King said in a news release from the American Heart Association. "Health care providers on the front line of treatment for these parents could play a significant role in connecting them to care."
Reference
Woolf-King S, Anger A, Arnold EA, Weiss SJ, Teitel D. Mental health among parents of children with critical congenital heart defects: a systematic review. JAHA. 2017; doi:10.1161/JAHA.116.004862