December 30, 2014
PTSD Combined With Brain Injury Compounds Poor Outcomes
the Psychiatry Advisor take:
Military veterans who have both post-traumatic stress disorder (PTSD) and mild traumatic brain injury (mTBI) have worse cognitive and psychological outcomes compared with veterans who only have one of these conditions, according to a study published in the Journal of Neurotrauma.
Previous studies have found that 13%-17% of veterans who were involved in the Iraqi conflict developed PTSD, and 12%-16% had mTBI. Of those who had TBI, one-third also had PTSD. However, prior studies had only looked at the effects of PTSD and mTBI independently.
"Our study is relatively unique because it includes a comparison group of veterans with PTSD only. This is extremely important because the effects of mTBI and PTSD can be very similar," said Walter High, PhD, of the University of Kentucky. "The inclusion of a group of veterans with both mTBI and PTSD also allowed us to look at the interactive effects of these conditions."
The study included veterans who were separated into three groups: mTBI only, PTSD only, and both mTBI and PTSD. The researchers evaluated each participant with tests to measure cognitive processing speed, IQ, verbal memory, and psychological distress.
Veterans who had both conditions had worse outcomes, both cognitive and psychological, compared with the groups who had one condition only. Additionally, the researchers found that veterans with mTBI had mild cognitive challenges, though they are not disabling and can be rehabilitated through education and therapy.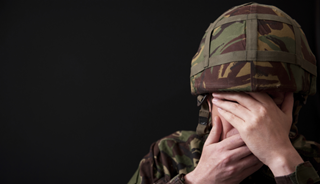 PTSD Combined With Brain Injury Compounds Poor Outcomes
War veterans suffering from both post-traumatic stress disorder (PTSD) and mild traumatic brain injury (mTBI) have poorer cognitive and psychological outcomes than veterans with only one of the conditions, according to new research published in the Journal of Neurotrauma.
The findings also suggest that mTBI alone may lead to ongoing, mild cognitive challenges for some patients.
Previous research has found that 12 to 16% of all veterans involved in the Iraqi conflict experienced mTBI and about 13 to 17% of veterans developed PTSD. One-third of all veterans with a TBI also suffer from PTSD.