January 18, 2018
Involuntary Brain Responses to Sensory Pattern Changes in PTSD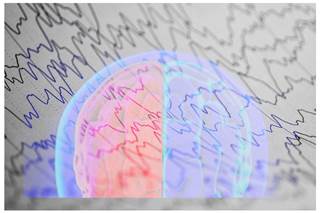 Electroencephalography was used to measure mismatch negativity amplitudes in both the PTSD and control groups.
According to the results of a study published in Scientific Reports, electroencephalography (EEG) measurements revealed that patients with PTSD paid more involuntary attention to auditory sensory changes compared with trauma-exposed control participants.
In this study, 13 men with PTSD (mean age: 46.7) and 13 age- and education-matched trauma-exposed men (mean age: 43.5) were enrolled. Participants were monitored with EEG while they watched a neutral silent movie and listened to regular auditory pure tones (standard tones; 1000 Hz, 200 ms duration). Changes in tone duration (50 ms) and frequency (1200 Hz) were introduced in 11% of tones (deviant tones).
Following deviant tones, peak mismatch negativity amplitudes were stronger in both groups (P <.001). Compared with matched control participants, participants with PTSD had a stronger mismatch negativity effect (-0.53 vs -1.08 µV; P <.001).
In the PTSD group, upper alpha power was significantly lower within the time window of 330 to 490 ms post-stimulus over the right centro-parietal and occipital channels (P <.05) and theta power was higher within 90 to 250 ms post-stimulus over the frontal electrodes (P <.05) compared with the control group.
In participants with PTSD, upper alpha power following deviant tones was negatively associated with working memory performance (P =.035). No significant association was found between theta power increase and memory performance or EEG effects and PTSD symptom severity.
In an interview with Psychiatry Advisor, Katrin Bangel, of the department of psychiatry at the University of Amsterdam in The Netherlands, called the results "exciting," explaining that "while mismatch negativity is already quite commonly used in clinical studies, alpha wave suppression is less well explored in the clinical context. Mismatch negativity and stimulus induced alpha suppression could in the future provide an objective means for evaluating possible auditory discrimination and sensory memory anomalies in PTSD."
Reference
Bangel KA, van Buschbach S, Smit DJA, Mazaheri A, Olff M. Aberrant brain response after auditory deviance in PTSD compared to trauma controls: An EEG study. Sci Rep. 2017;7(1):16596. doi:10.1038/s41598-017-16669-8