August 24, 2015
PTSD Risk for Women in Military No Greater Than Men's
the Psychiatry Advisor take:
Women in the military do not face a greater risk of developing post-traumatic stress disorder (PTSD) than their male counterparts.
Shira Maguen, PhD, a psychologist at the San Francisco VA Medical Center, and colleague conducted their research using the Millennium Cohort Study, which includes more than 200,000 active-duty soldiers and veterans.
In the new study, 2,300 pairs of men and women were matched based on different measures, including combat exposure, and monitored for nearly seven years. All the soldiers did not have PTSD at the start of the research.
During the study period, 6.7% of women and 6.1% of men developed PTSD, the researchers reported in the Journal of Psychiatric Research. However, that difference is not considered statistically significant. — a difference that is not statistically significant, according to the researchers.
The rates of PTSD are lower than the commonly cited rates of 11 to 20% among returning Iraq and Afghanistan veterans because the study excluded men and women who had PTSD at the outset, according to Maguen.
"I do think military women are extremely resilient, but I think the differences in rates in the civilian literature actually have to do with a number of factors, including women having much higher rates of interpersonal traumas, which we know put people at high risk for PTSD," she said in a statement.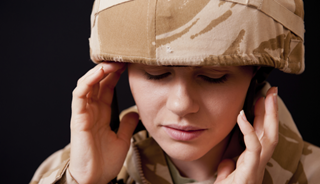 Male and female soldiers followed for seven years developed PTSD at nearly the same rate.
A new study has found that women in the military are at no greater risk than men for developing post-traumatic stress disorder (PTSD) given similar experiences, including combat.
Conducted by Defense and Veterans Affairs researchers, the study involved active-duty troops and veterans who are part of the Millennium Cohort Study, which has more than 200,000 participants.
The new PTSD study included more than 2,300 pairs of men and women who were matched based on an array of variables — including exposure to combat — and followed for about seven years.