July 26, 2014
Poor Sleep in Those With PTSD Leads to Lack of Physical Activity
the Psychiatry Advisor take:
People suffering from post-traumatic stress disorder (PTSD) that have trouble sleeping are less likely to engage in physical activity, according to a new study. In fact, researchers found that sleep quality more strongly correlated with physical activity after a year than at the initial diagnosis of PTSD.
"The longitudinal aspect of this study suggests that sleep may influence physical activity," Lisa Talbot, PhD, a postdoctoral fellow at the San Francisco VA Medical Center and the University of California, San Francisco, said.
The study included data from the Mind Your Heart Study, a prospective cohort study of 736 outpatients recruited from two Department of Veterans Affairs (VA) medical centers. At baseline participants rated their sleep quality overall during the last month, and at baseline and again one year later they reported how physically active they have been during the last month. 258 of the participants had current or subsyndromal PTSD.
At baseline, Talbot and her team found that poor sleep was associated with PTSD at baseline. After a year, those with PTSD had lower physical activity. Further analysis indicated that sleep quality was associated with physical activity at the one-year follow-up, lending credibility to the idea that reduced sleep quality and physical activity could provide a behavioral link leading to poor health outcomes, such as obesity. Results were published in the Journal of Clinical Sleep Medicine.
"The findings also tentatively raise the possibility that sleep problems could affect individuals' willingness or ability to implement physical activity behavioral interventions," Talbot added. "Sleep improvements might encourage exercise participation."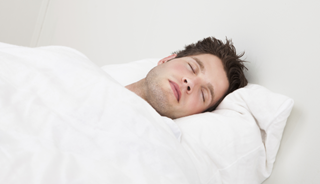 PTSD, poor sleep quality and physical activity
A new study shows that worse sleep quality predicts lower physical activity in people with post-traumatic stress disorder (PTSD). Results show that PTSD was independently associated with worse sleep quality at baseline, and participants with current PTSD at baseline had lower physical activity one year later.
Sign Up for Free e-newsletters