January 07, 2015
Personality Traits May Shield Police Officers from PTSD
the Psychiatry Advisor take:
Police officers may be shielded from the symptoms of post-traumatic stress disorder (PTSD) due to personality traits such as resilience and gratitude.
Erin C. McCanlies, PhD, of the Centers for Disease Control and Prevention, and colleagues, examined 114 officers (84 male, 30 female) in the New Orleans area in the aftermath of Hurricane Katrina in 2005. During that time, many officers had to deal with issues such as crowd control, looting, and retrieving dead bodies while at the same time, many residents were openly hostile toward them, including incidents of assaults and shootings.
Eight weeks after Katrina hit, almost 20% of the officers in the study had symptoms that were consistent with PTSD. However, officers that exhibited personal qualities including resilience, satisfaction with life and a grateful disposition reported fewer PTSD symptoms, the researchers reported in the journal Stress and Health.
"In this sample, unlike in studies of civilian populations, an experience of post-traumatic personal growth did not appear to mitigate PTSD symptoms in police officers, though the other three protective characteristics (resilience, life satisfaction, and grateful disposition) we studied did," John Violanti, PhD, University at Buffalo, New York, a study co-author, said in a statement. He added that an officer's resilience decreased as alcohol intake increased.
Violanti noted that police officers still face a much higher risk of PTSD than the general public, with between 9% and 19% of police developing PTSD during their career.
"This study extends our understanding of how positive factors are associated with reduced PTSD symptoms, and can inform and guide treatment modalities for PTSD," he added.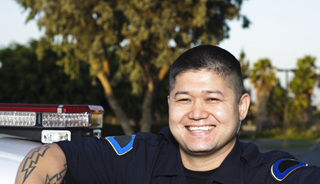 Personality Traits May Shield Police Officers from PTSD
A new study suggests personal traits such as resilience, satisfaction with life and a grateful disposition may help safeguard police officers from symptoms of post-traumatic stress disorder (PTSD).
Although exposure to traumatic events has been found to trigger PTSD, the personal traits appear to provide a shield from PTSD for officers who are often exposed to repeated trauma.
These are the conclusions of a new study that looked at police officers in the New Orleans area during and in the immediate aftermath of Hurricane Katrina. The results suggested that they were shielded from PTSD by the protective qualities not only in the immediate aftermath of the hurricane, but years later as well.
Sign Up for Free e-newsletters
Check out what's trending