February 13, 2015
Mindfulness Training Focuses Soldiers' Attention
the Psychiatry Advisor take:
Providing soldiers with mindfulness training protects against attentional lapses and promotes cognitive resilience even in high-stress situations, according to a study published in PLOS ONE.
With eight hours of mindfulness training over an eight-week period, soldiers were able to curb attentional lapses and mind wandering.
For military operations to succeed, soldiers must process high volumes of information to make decisions under intense pressure. However, if a soldier is unable to focus, they can cause errors that can lead to significant physical or psychological distress.
Before their deployment, soldiers undergo intensive training for the mission at hand. However, prior studies have shown that soldiers often suffer from impaired cognitive functioning and poor psychological health during this time. Because they have a limited time to train before deployment, the researchers in this study wanted to find the most effective way to employ mindfulness training for soldiers.
The study included three groups of military services members, two of which received mindfulness training eight to 10 months before being deployed in Afghanistan, and a civilian control group. The first mindfulness group received training that emphasized engagement in mindfulness exercises during the classes.
The second mindfulness group had classes focused on didactic information and discussions that focused on stress and resilience. The third group received no mindfulness training and served as the military control group. The researchers measured attention and performance using the Sustained Attention to Response Task (SART).
The researchers found that while the SART scores in civilians remained stable over the eight-week period, the scores of the control military group declined significantly. Both groups who received mindfulness training had higher scores than the military control group, but the group with training emphasized had the highest scores of the three military groups.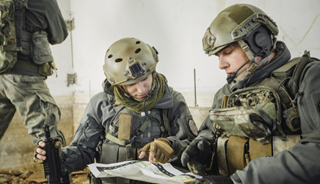 Mindfulness Training Focuses Soldiers' Attention
Rather than the calm before the storm, the period before soldiers are deployed to a conflict zone is a time of extremely high demand and intense stress. Soldiers receive intensive training for the mission, while psychologically preparing to leave loved ones to face a dangerous, high-stress, high-performance environment.
Although the goal of the predeployment period is to ensure that soldiers are prepared for the mission, studies have shown the presence of impaired cognitive functioning and psychological health during this critical interval.