November 16, 2014
Many Mental Health Providers Ill Prepared for Treating Veterans
the Psychiatry Advisor take:
A large number of mental health clinicians lack the proper training and background to effectively treat the psychiatric needs of military veterans, according to a new survey.
Only 13% of the providers surveyed -- which included more than 500 psychiatrists, psychologists and social workers -- met the study's readiness criteria for both cultural competency and delivering evidence-based care. That criteria included whether they used evidence-based methods to treat major depressive disorder and post-traumatic stress disorder (PTSD), and whether they had additional training on dealing with veterans specifically.
The study, commissioned by the United Health Foundation and the Military Officers Association of American, and conducted by the RAND Corporation, found that just one-third of psychotherapists said they received the training and supervision necessary to deliver at least one evidence-based psychotherapy for PTSD and at least one for depression.
"There is a need for increased training among community-based providers in high quality treatment techniques for PTSD and other disorders that are more common among veterans," Terri Tanielian, the study's lead author and a senior social research analyst at RAND, said in a statement.
While 70% of providers working in a military or Veterans Affairs (VA) medical facility had high military cultural competency, only 24% of providers in TRICARE, the Department of Defense's health insurance program, met such competency levels. And only 8% providers with no VA or TRICARE affiliation had high competency.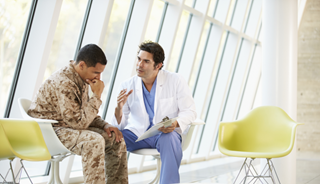 Many Mental Health Providers Ill Prepared for Treating Veterans
Most community-based mental health providers are not well prepared to take care of the special needs of military veterans and their families, according to a new study by the RAND Corporation that was commissioned by United Health Foundation in collaboration with the Military Officers Association of America.
The exploratory report, based on a national survey of mental health providers, found few community-based care providers met criteria for military cultural competency or used evidence-based approaches to treat problems commonly seen among veterans, including post-traumatic stress disorder.