April 21, 2015
ICU Stay Could Leave Patients Vulnerable to PTSD
the Psychiatry Advisor take:
Nearly 25% of patients that have spent time in a hospital intensive care unit (ICU) experience post-traumatic stress disorder (PTSD) afterwards, a rate that is on a similar level to combat veterans and rape victims.
Researchers at Johns Hopkins University School of Medicine in Baltimore conducted a meta-analysis of 40 studies, and then selected six studies with a total of about 450 patients that used a PTSD measurement tool called the Impact of Event Scale between one and six months after being released from the ICU.
They also conducted another meta-analysis that looked at patients seven to 12 months after discharge. In the first meta-analysis, about 25% of patients exhibited PTSD symptoms, while in the second one, the rate was one in five patients, the researchers reported in the journal Critical Care Medicine.
Risk factors in this population included having pre-existing anxiety or depression. In addition, receiving a large amount of sedatives in the ICU was tied to higher risk of having PTSD, as was having disturbing memories of being in the ICU.
However, keeping an ICU diary, which allows both clinicians and family members to keep track of a patient's behavior, appeared to prevent PTSD symptoms, according to the study.
"Diaries seem to help patients process their experience and formulate more accurate memories of their time in the ICU," Joe Bienvenu, MD, of Johns Hopkins and a study investigator, said in a statement. "They provide patients with a tool to better understand their experience in the ICU through the words of their loved ones and caregivers."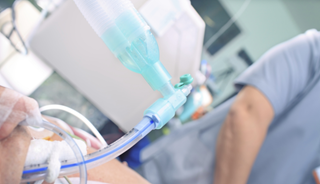 ICU Stay Could Leave Patients Vulnerable to PTSD
Post-traumatic stress disorder (PTSD) is often thought of as a symptom of warfare, major catastrophes and assault. It's rarely considered in patients who survive a critical illness and stay in the intensive care unit (ICU). However, in a recent Johns Hopkins study, researchers found that nearly one-quarter of ICU survivors suffer from PTSD. They also identified possible triggers for PTSD and indicated a potential preventive strategy: having patients keep ICU diaries.
Through a systematic literature review, the research team looked at 40 studies of 36 unique patient cohorts with a total of more than 3,000 patients who survived a critical illness and ICU stay. They found that the prevalence of PTSD in the studies ranged from 10 to 60%.
Sign Up for Free e-newsletters