August 13, 2014
DSM-5 Excludes Many with Previous PTSD Diagnosis
the Psychiatry Advisor take:
Due to changes in the definition of posttraumatic stress disorder (PTSD) in the DSM-5, 30% of soldiers who screened positive for PTSD using DSM-IV criteria no longer qualify.
Part of the reason for the drop is that DSM-5 states that patients whose symptoms fail to meet the diagnostic threshold for PTSD should be diagnosed with adjustment disorder instead. However, this can be problematic for veterans, as being diagnosed with that disorder can lead to loss of benefits.
The new definition of PTSD increases the number of symptoms from 17 to 20, but also rewords eight of the original 17 symptoms.
Charles Hoge, MD, of the Center for Psychiatry and Neuroscience at Walter Reed Army Institute of Research in Silver Spring, Maryland and colleagues examined 1,822 veterans, more than half of whom had served in conflicts in Iraq and Afghanistan.
Alternately, about 20% of those who meet PTSD criteria under DSM-V would not have done so under DSM-IV, indicate results published in The Lancet Psychiatry.
"Although we found that roughly the same percentage of soldiers met criteria for PTSD according to the two definitions, and the new PTSD screening tool was equivalent to the one we've used for many years, we also found that the two PTSD definitions did not identify the same individuals," Hoge said.
In a comment accompanying the study, Alexander McFarlane, of the Center for Traumatic Stress Studies, University of Adelaide, Australia, said, "We think there should be a period of transition between legal use of DSM-IV and DSM-5 so that potential effects of these changes can be examined and that deserving individuals are not denied their legal rights."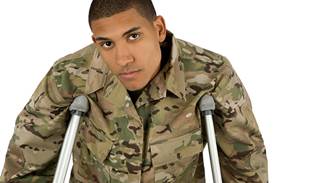 DSM-5 PTSD Definition Excludes Veterans Who Previously Met Criteria
The definition of posttraumatic stress disorder (PTSD) underwent substantial changes in the 2013 edition of the Diagnostic and Statistical Manual of Mental Disorders (DSM-5).
How this will affect estimates of prevalence, whether clinical utility has been improved, and how many individuals who meet symptom criteria according to the previous definition will not meet new criteria is unknown.
Updated screening instruments, including the PTSD checklist (PCL), have not been compared with previously validated methods through head-to-head comparisons.
Sign Up for Free e-newsletters