August 06, 2014
Benefits Counseling Helps Veterans With Psych Issues Work More
the Psychiatry Advisor take:
Veterans who return home from service with psychiatric issues often have difficulty returning to the work force. Part of the reason for this, some believe, is that disability payments disincentivize vets from seeking jobs.
Researchers sought to examine whether benefits counseling would increase the number of days vets would work. Such counseling includes teaching about opportunities to work and the financial consequences of not working while receiving disability benefits.
Marc I. Rosen, MD, of the Department of Psychiatry, Yale University School of Medicine in New Haven, Connecticut, and colleagues enrolled 84 veterans who had applied for compensation related to a psychiatric condition. They were assigned to either four session of benefits counseling or an orientation to the U.S. Department of Veterans Affairs health care system and services.
Veterans in the benefits counseling groups worked for more days than veterans in the control group (effect size=0.69, P<0.05), accounting for three more days of paid employment during the 28 days immediately prior to the six-month follow-up period. In addition, the counseling was linked to greater use of mental health services.
"Barriers to employment associated with disability payments are remediable with basic counseling. More research is needed to understand the active ingredient of this counseling and to strengthen the intervention," the researchers concluded.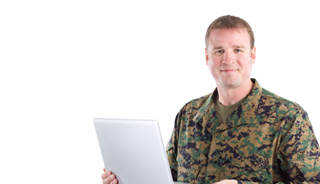 Benefits Counseling Helps Veterans With Psych Issues Work More
This study's objective was to determine the efficacy of benefits counseling in a clinical trial. There has been concern that disability payments for psychiatric disorders reduce incentives for employment and rehabilitation.
Benefits counseling, with education about opportunities to work and the financial implications of work on receipt of disability benefits, may counter these disincentives.
Sign Up for Free e-newsletters